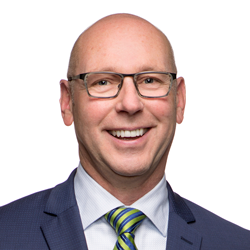 Raised in the country, Dan grew up on co-operative principles. He believes the credit union model is the best way to increase financial fitness for members and communities.
Dan has over 30 years of human resources and corporate services experience, having worked at Federated Co-operatives Limited and the Co-operative Retailing System, one of North America's largest consumer co-operatives.
Dan is a Certified Chief Executive, Certified Credit Union Director, Chartered Professional in Human Resources and Society of Human Resources Management Senior Certified Professional. He has a masters certificate in enterprise risk management and business performance. He is on the Board of Credit Union Central of Alberta, a member of their Governance and HR Committee and also a member of the Conference Board of Canada's HR Executives West Council.
Dan is a sports and outdoor enthusiast.