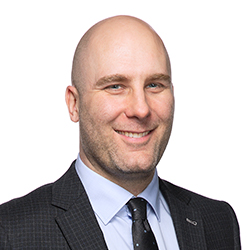 Ryan joined Servus in 2005 and was named Chief Financial Officer in June 2018.
Born and raised in Saskatchewan, Ryan holds a bachelor of commerce from the University of Saskatchewan, a master of business administration from Edinburgh Business School and the derivatives market specialist designation from the Canadian Securities Institute. In 2016, he completed the Business Leadership Program for Financial Executives from the University of Toronto's Rotman School of Management.
Ryan is a proud recipient of the National Credit Union Young Leaders Award and Scholarship and served for three years on the Canadian Credit Union Association's National Young Leader Committee.
When he isn't crunching numbers and watching the markets, you'll find Ryan at home or on the go with his wife and two young children.