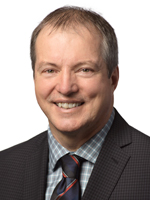 Like most Albertans, the Board of Directors was keenly aware of the economic challenges faced by many organizations last year and is proud that the credit union fared very well.
President and Chief Executive Officer Garth Warner, and his team, upheld our co-operative values while improving our members' financial lives every step of the way. Their outstanding work helped us achieve another year of solid financial results and confirmed for us that our credit union remains on the right track to support our members and our communities.
As representatives of all Servus members, the board was very pleased to see management handle the year's economic headwinds with care and expertise. The excellent work of management and staff allowed us to focus our time and energy on looking five to 10 years ahead and ensuring that an appropriate governance framework is in place for the future.
The board did significant work in 2015 to make sure members have a more complete picture of how we work together and are accountable to those we serve. Starting this year, the board's and committees' attendance and compensation will now appear in this report. We have always been transparent with our governance work and this is just one more way to show that.
Another accomplishment of the board was the review and updating of our policy governance model, further clarifying director roles and responsibilities. The goals of this model are to:
Enable the board to focus on larger issues
Delegate to management with clarity
Rigorously evaluate the accomplishments of the organization
I'm most proud that the board was able to approve a $47.9 million Profit Share payout to members for 2015. The Profit Share program is what sets us apart from other financial institutions and shows our commitment to our member-owners and to improving their financial situations.
Last year's overall performance and dedication to exceptional member service by Servus makes it an honour to represent your Board of Directors. I'd like to thank Servus's Executive Leadership Team and employees for another year we can all be proud of. Together, we have done a great job in guiding our credit union, securing it and our members' finances this year and for years to come.
Doug Hastings, Chair
Board of Directors