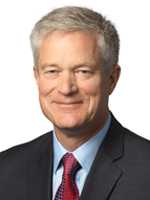 When I look back on 2017, I'm pleased to see the many ways that Servus Credit Union took care of its members.
I saw this support early in the year when the credit union strengthened its commitment to providing exceptional service along each member's financial fitness journey. This was extremely heartening at a time when other financial institutions were being criticized for their customer service practices. As representatives of Servus members, my fellow directors and I are proud to be part of an organization that operates ethically and in members' best interests.
The credit union also continued to find new and better ways to serve members through online and mobile banking. I'm particularly excited that this year's enhancements will make it easier and more convenient for members to vote in the annual board of directors elections. Providing better access to voting strengthens the credit union's governance.
The credit union achieved strong financial results in 2017, and the board was extremely pleased to be able to approve a Profit Share® payout of $50.6 million. As Servus's unique rewards program, Profit Share puts profits back into members' pockets. In doing so, Servus enables members to contribute to their communities in ways that are meaningful to them and that make a real difference in their lives.
As a governance board, my fellow directors and I not only oversee the management of the credit union on behalf of members but also ensure that members' needs are kept front and center in everything the credit union does. In 2017, the board continued to refine Servus's governance model by implementing the director term changes that members approved at last year's annual general meeting. The board also ensured that the interests of members from across the province were represented in the direction we gave the credit union. And we kept our eyes on the horizon, looking ahead to what Servus needs to do to ensure we remain relevant and able to serve members and our communities.
On May 22, 2017, we were saddened by the loss of long-time board member Penny Reeves. She joined Servus's board in 2010 and was re-elected in March 2017. Previously, she served on the board of Capital City Savings for several terms. Throughout her time with us, she shared her wealth of experience working with credit union and co-operative boards at all levels.
On behalf of the board, I'd like to congratulate Servus's Executive Leadership Team and employees for a remarkably successful year and to express our gratitude for their continued commitment to giving members the advice, care and service they need and have come to expect from the credit union. They work hard every day to secure a strong future for Servus members, our communities and our world.
John Lamb, Chair
Board of Directors