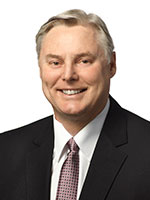 At Servus, our co-operative roots and principles guide us to put our members first. In 2017, we formalized our commitment to exceptional member service by focusing on our members' journey toward financial fitness. We made this commitment because we know that when our members are financially fit, they contribute to prosperous communities, which ultimately builds a better world. I am very excited about this direction we are taking as a credit union and the positive impact it will have on our members.
When our members are financially fit, we also do well financially. Our performance in 2017 is a testament to the trust our members place in us with their investments and savings. Our income before patronage and taxes increased by 13.5%, or $16.8 million, over last year. Our loans grew by 3.4%, or $452 million. And our overall assets increased by 3.9%, or 578.8 million.
In 2017, our members also rewarded us with some of the highest member satisfaction and loyalty scores we have ever seen. This tells us that we are on the right track with our service delivery and drives us to work even harder for our members.
Our strong performance in 2017 meant that we were able to give back $50.6 million in Profit Share® — the highest pay out in our history — to our members. It also allowed us to be part of Alberta's recovering economy in other significant ways. During the year, we provided more than $3 billion in loans to Alberta businesses, paid $196 million in salaries and benefits to employees and invested close to $2 million in over 1,000 community organizations across the province. I am incredibly proud to lead a financial institution that works for the benefit of the local economy and supports organizations right here in our communities.
Yet with unemployment still high across the province, we know the economy is not completely out of the woods. We remain firmly committed to helping our members and communities navigate any financial challenges they face.
In 2017, we made progress on our goal to develop long-term relationships and a stronger presence in Calgary. Servus is opening a new branch in the Panorama Hills neighbourhood and will soon amalgamate with Inglewood Savings & Credit Union and Canada Safeway Credit Union in Calgary. Inglewood and Safeway members chose to become part of Servus because of our faithfulness to co-operative principles and values. It is truly an honour to support the credit union system by welcoming them into our family. Looking ahead, we are exploring other opportunities to expand our footprint in the city.
Our work on the new Panorama Hills branch is an example of our growing diversification not only physically but also digitally. The new location will use state-of-the-art digital technology to deliver standard banking services, giving staff more time to provide members the expert financial advice they need on the road to financial fitness. In 2017, we also enhanced our service offerings in online and mobile banking. We are seeing more members switch to using these electronic channels, and I am excited about the changes we are making to meet their expectations and needs.
As we enter our 80th year serving members in Alberta, I am proud that Servus Credit Union is financially stronger now than we have ever been. Thanks to good management and the work we have done with members, our capital is solid, and we are well-positioned for the years ahead. Going forward, we will continue to manage our costs and give members exceptional service on their journey toward financial fitness. Equally important, we will continue to champion co-operative principles and the credit union way of banking for future generations of Albertans.
Garth Warner
President & CEO