Early this year, Servus added Apple Pay to its suite of digital banking services. Apple Pay is a cashless payment system that offers fast, secure and convenient payments using an iPhone or Apple Watch that you've paired with your Servus Credit Union Member Card®.
Five months later, Apple Pay has become one of our fastest-growing services.
More than 2,300 Servus members are now using Apple Pay (that's more than three times the number of members using it in January).
Those members have made more than 78,400 transactions totaling more than $1.23 million.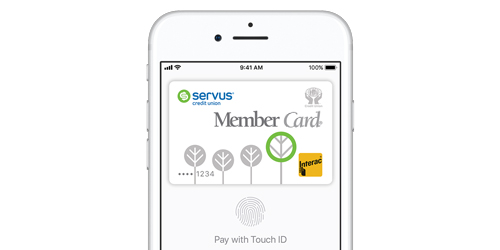 Apple Pay is safe and easy to use. Add your Servus Member Card to the Wallet app on your iPhone or Apple Watch and then hold your device to the payment terminal to make a purchase. Apple Pay uses the Interac Flash® network, so you can use it anywhere tap to pay is accepted. Apple Pay is only available with your Servus Member Card right now, but your Servus Mastercard® will be eligible soon.
Along with the security of the Interac® network, you'll get protection with Apple Pay through a digital identification number assigned to your card. When you make a payment using Apple Pay, it's the digital ID that Apple and Interac use to verify your transactions. The digital ID will also print on your receipt, keeping your actual card number secure.