SACE supports individuals affected by sexual abuse and assault and empowers communities to take action against sexual violence.
How SACE started
Let me take you back to a very specific time in Edmonton-1975. Edmonton is booming: the Edmonton Oilers are three years old and haven't yet joined the NHL, and within this decade, the LRT begins construction, the Heritage Festival begins its first year, Commonwealth Stadium opens, and West Edmonton Mall construction breaks ground.
There was a large problem, though—an extremely disturbing one. Edmonton was identified as the rape capital of Canada after more rapes were reported per capita than any other city in our country. It is important to note that this statistic is only reported rapes, and is likely much higher—many sexual assaults go unreported, as it is often too emotionally difficult for victims to report their experience to authorities.
So, a group of concerned citizens banded together and started the early grassroots organization that turned into the Sexual Assault Centre of Edmonton (SACE). These individuals volunteered to implement a crisis line for survivors to get support and help. It operated for years out of volunteers' homes. Soon after, they applied for funding through Edmonton's United Way and got a small grant to open an office where they were able to hire one social worker to come into the office and clients could access this person, either through crisis support or planned counselling services.
SACE today
Since then, SACE, a nonprofit member of Servus, has grown to a staff of 42, with 16 full-time, trauma-informed, highly trained, highly experienced provisional and registered psychologists and a team of community outreach staff that provides extensive, tailor-made community public education. SACE offers professional counselling services to individuals of all genders above the age of 3. SACE additionally offers individual and group counselling, group counselling services for individuals who have experienced recent incidences of sexual violence, men's groups, teen groups, groups who are supporting survivors, and more. SACE also offers a 24-hour support and information line. Over the last year, close to 1800 new clients in Edmonton alone, of whom 473 (26%) are under the age of 18.
"The statistics speak for themselves. There is a large problem in our society with sexual assault and the meaning of consent," says Mary Jane James, Executive Director of SACE. "That is why SACE offers tailor-made, community-specific, demographic-specific education on boundaries, drugs, consent and more, in addition to our counselling services. We strongly believe that survivors of sexual violence can heal with timely and proper help and resources."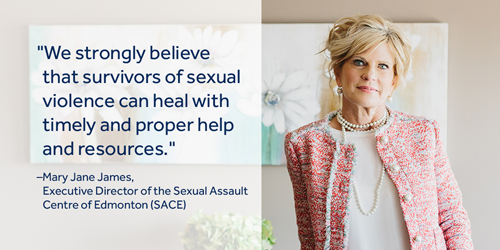 Unfortunately, the number of sexual assaults happening in Edmonton is still a large issue. Here are some staggering statistics:
SACE had close to 1800 new clients in Edmonton alone, of whom 26% are under the age of 18.
1 in 3 Canadian women will experience some form of sexual violence in their lifetime
Only approximately 5% of sexual violence cases are actually reported to police[1].
Disabled women are three times as likely to be sexually assaulted, and over 80% of women with disabilities will experience sexual violence at some point in their life[2].
Servus and SACE
Servus is proud to support SACE and all they do for the survivors in our community. Annually, Servus sponsors the I Believe: Let's Move Forward Together Gala, which boasts over 500 attendees. At this year's gala, Tarana Burke, creator of the #MeToo movement, was the guest speaker. All of the money raised from the gala is used towards support and services for the thousands of survivors in our community.
"The partnership between SACE and Servus is just fantastic. We are happy to have Servus as our financial institution, and Servus supports SACE," says Mary Jane James. "I don't think the Gala would be what it is today without Servus helping get it off the ground."
To learn more about SACE, or to volunteer your time to assist survivors, visit www.sace.ca. If you or anyone you know has been a victim of sexual violence, please call SACE'S 24-hour crisis line at 780.423.4121.