When Servus joined with Inglewood Credit Union to create Servus's newest Calgary branch, we knew the community was special. With its unique shops, restaurants and services, Inglewood has a culture all its own. So to celebrate the Inglewood business community, Servus launched a marketing contest. Marketing agencies WAX and OMD joined us in offering a fantastic $25,000 prize, and this month we announced Gravity Espresso & Wine Bar as the winner!
Gravity is a high-end coffee bar with exceptional coffee and pastry products and a well-selected wine and beer menu that pairs with their cheese platters. They pride themselves on providing a relaxing ambience where guests can unwind. Gravity also hosts local and touring musical talent on a weekly basis, including larger acts on Friday and Saturday nights.
"We wanted to give something back to the community of Inglewood, which is home to so many unique businesses," says Ellen Hamilton, Servus's Senior Relationship Manager for Business Banking, Calgary Region. "When we told our partners at WAX and OMD, they immediately jumped on board to make the prize more substantial. We're all really excited to work together with Gravity." Together, the team will create and execute a new marketing plan for the business.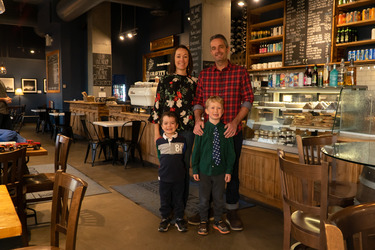 "For someone that grew his brand and business from word of mouth advertising and external write-ups and reviews, this prize means a great deal," said Andy Fennell, owner of Gravity Espresso & Wine Bar.
Work between Calgary-based WAX and Gravity has already begun. "As an independent creative agency, we understand the challenges small businesses face," said Nick Asik, Creative Director at WAX. "We're looking forward to bringing that knowledge to helping them outsmart, not outspend the competition."
"OMD is excited to support Servus and their commitment to local communities through the Small Business Contest," said Jason Snider, President at OMD West. "We're thrilled to contribute our world-class strategic media planning expertise to help Gravity Espresso & Wine Bar discover, reach and inspire new customers."
Want to learn more about Andy and Gravity Espresso & Wine Bar? Follow his story on Facebook and Instagram.