Is it just us, or does it seem like the ol' gift list gets longer every year? From family, friends and teachers, to your dog groomer's husband's best friend —gifts don't have to be expensive to be thoughtful. We asked our Facebook followers to give us their best holiday saving hacks and here they are!

One idea Eva has is to purchase mason jars and fill them with the dry ingredients for a recipe of your choosing. Gingerbread, shortbread, cookies, brownies... the ideas are endless. One only has to add wet ingredients and they're ready to bake! If you feel like divulging your great-great-grandmother's top secret sugar cookie recipe, you can include the recipe as well. Cute, tasty and inexpensive, with lots of thought!

What do you buy for the people who seem to have everything? The answer is easy—something they would never think to buy themselves! Linda's idea is to hit up local craft/handmade shows for a ton of neat gift ideas. Whether it's a cozy crocheted blanket, a handmade bath bomb, or some delicious holiday treats, holiday craft shows have tons of meaningful gift ideas. Or find free things to do where you live and focus on experiences. These tips can lower costs and you get all the good feels that come with supporting local.

Kristi's tip is great for those who normally procrastinate with holiday shopping: shopping early for your gifts can actually save you money! Holiday season means markups, and if you're on a time crunch to get your holiday shopping done, you're more likely to overspend for that perfect gift. Start shopping early and give yourself lots of time for those on your list.
On the other hand, if you're shopping for holiday decorations, your best bet is to wait until the holiday is over and the last bit of tinsel is packed away (and vacuumed out of every nook and cranny—seriously, how does that stuff end up everywhere?!). Huge markdowns can save you lots of money and help you prepare to have the most festive house on the block next year!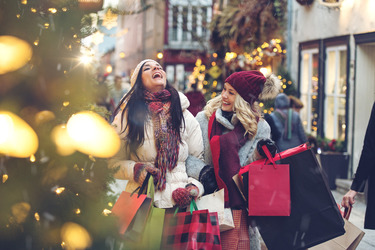 There you have it! Our best tips for saving during the most expensive time of year. With all the extra money left in your holiday budget you can save towards a goal (perhaps a holiday in the new year)!