You've been hearing the same message for years, or at least since you got your first part-time job, "You're young, save as much as you can in an RRSP now and it'll pay off when you're able to retire at 55." While there is definite truth in this generational wisdom, you may feel that this concept doesn't jive with your career and life goals.
How would we 20 and 30-somethings prefer to talk about investing for our future retirement? Start by removing the word "retirement," says Chelsea Kolstad, Investment Specialist, Servus Credit Union and Credential Asset Management Inc.
"I think discussing 'financial freedom' is more relevant than retirement," she says.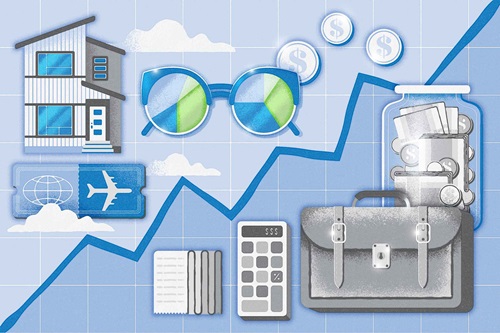 If you agree that working towards your own financial freedom (whatever that looks like) is vastly more appealing than placing your passions on hold and picking them back up at 55, then you're not alone. Chelsea is a millennial herself. She says her cohorts account for 18% of the investors she works with — and that's growing. Breathing new life into the conversation about retirement to make it relevant for the modern day is a big part of what she does.
"We are no longer going through life stages in the same way our parents did, so why should we approach retirement the same way?" Chelsea says. "It's about creating a way to invest in your future self so that you can achieve financial independence, and that's an exciting goal to work towards."
Putting together a plan to retire comfortably in our 40s and 50s is a topic that resonates more, Chelsea says. Some of us might switch careers completely and work again in our later years. While some may toss the traditional view of retirement out the window — the one where you only get to truly enjoy the fruits of a lifetime of labour later in life — in favour of living in the moment. Either way, by starting early with some simple financial planning, it's possible to pursue your life passions now and later.
Not only do we subscribe to a different view on long-term financial goals, millennials have changed the game when it comes to how we earn and save our money. The "gig" economy is rising and we've been the main drivers. Self-employment, whether that's a combination of freelance, part-time work or entrepreneurial endeavors, is becoming more and more common. While this certainly feeds our desire to chase our dream(s), the one "drawback" is that we're accessing fewer employer-driven retirement benefits. This reality also requires a different approach to achieving one's long-term goals, Chelsea says.
"You definitely have to remain more disciplined with your finances if you have longer periods between pay, but it shouldn't discourage you from saving for the long term," she says. Most millennials she works with have some sort of steady pay, and are bringing in money on the side from other passive income streams (#sidehustle).
"You need to plan on how to align your expenses and savings goals during periods of no income, and then allocate the appropriate amounts when you do get an injection to your cash flow," she says.
The foundation of what investment specialists like Chelsea offer is education — helping you evaluate your options in order to achieve your goals. Her "investment hack", it's easier to reach those financial freedom goals by starting early (you just read that in your parent's voice, didn't you?). "It creates the right habits, and you get to take advantage of the power of compounding on your investment over time."
Since there's nothing we like more than working smarter, not harder — setting up an investment plan early makes sense (insert applicable compound interest meme).
For example, starting to invest at age 25, paying $300 per month until age 55, could amount to approximately $410,000 (accounting for inflation, and a rate of return of 6%). Contrast that to someone who starts at age 35, doubles the contribution to $600 per month (same rate assumptions), and ends up at around $346,000 at age 55 (mind blown). "That really shows the impact of compounding when you start investing early," Chelsea says.
There are many savings and investment options available. The first step is determining where you want to be financially now and later in life.
Mutual funds and other related financial planning are offered through Credential Asset Management Inc.