A mortgage is the biggest debt most people will have in their lives, and it can be scary to even consider taking it on. But unless you happen to have an awful lot of cash on hand, it's what you've got to do to buy your own home.
"If it's a necessary evil, it's also a means to an end," says Tim McCallen, a mortgage specialist at Servus Credit Union in Edmonton.
The end will be worth it if you borrow responsibly to purchase the right home for you and your budget. This means balancing your needs today with those of the future.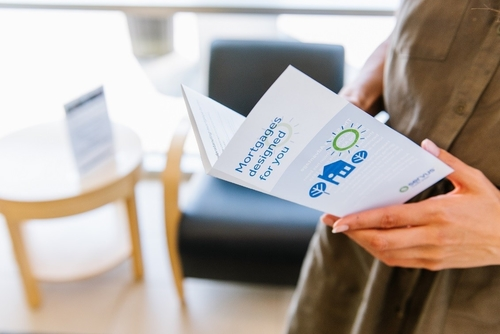 If you're talking about home ownership, consider these five reasons to give it a shot:
Knowledge is power
There's no harm in trying things out. So why not see if you qualify for a pre-approved mortgage? If nothing else, you'll know how much you can afford. And your financial institution can be a big help in this respect. "As a lender, I'm in a position where I can assist you to understand what you can reasonably afford," McCallen says. Remember, just because you get pre-approved doesn't mean you have to buy.
Pride in ownership
There are few better feelings in life than moving into your first home. Sure, the lender owns most of it at the start, but you get to live there and call the shots: paint the walls, renovate, host parties and just savour the fact that it's yours. There's tremendous pride in that.
A matter of equity
Although you may start out owning only a fraction of your home, a mortgage provides a path toward full ownership. With each payment, you're a little wealthier; you own a little bit more of those floors beneath your feet. There's a net worth gain over time. Every payment serves your best interests and not those of, say, a landlord.
A backstop for future borrowing
Home ownership means you're building up wealth and that can bolster your ability to borrow for other purchases. Your home affords you a better interest rate than you would get by using another asset as collateral. As equity builds, so too grows the amount you can borrow at interest rates often close to prime. For instance, that's money you can use to go travelling in retirement, or to help buy a lake property. But proceed with caution. Only borrow as much as you can confidently pay back over time. Otherwise, you're hollowing out your home's equity while trying to build it up at the same time.
A good investment
Generally, borrowing to invest is a risky venture. But when it comes to owning a home, it's often a sound financial strategy. Over the long term, real estate has proven itself to be an investment that does increase in market value. While the past couple of years have seen prices level and even decline, real estate generally increases in value faster than inflation over the long haul. Moreover, the recent drop in prices in Alberta isn't all bad if you're in the market to buy. A low market now makes it easier to expect a higher market when you're ready to sell, perhaps when you retire. Ideally, you downsize and come out of the transaction mortgage-free. Equally important, the related bills in the new place you retire to, such as property taxes and utilities, are also likely to decrease. Together with the leftover proceeds from the sale of your home, your future self will have more money for enjoying life.
"Ultimately a home is a growing source of financial strength and stability that not only improves your net worth, but also can be an important financial asset in retirement in the future," says McCallen.