Sarah Hammond, Servus User Experience Designer and self-proclaimed reward point aficionado, shares her secrets to getting the most out of rewards programs.
---
Let me start by saying this isn't one of those Extreme Couponing situations, though my friends might disagree. They laugh when I start talking about point stacking, but I promise it doesn't include endless hours of surfing the internet or clipping coupons. Point stacking is a faster way to earn points by using multiple ways to collect. For example, using a points credit card to pay for your purchase and that store's own points program. In fact, by the time you're done reading this blog you'll be surprised how easy it is.
Disclaimer: I'm not going to talk about all the point programs available, specific ways to earn points or compare program values. This blog will get you started on thinking about how you can increase the rewards you earn with a few small steps.
Step 1 – Think about where you shop most often.
Step 2 – What reward would you like to build up to?
Step 3 – Set yourself up.
I'll talk about two of the fastest ways to earn reward points – groceries and gas – because you make these purchases regularly. Groceries every week and gas every other. Most grocery stores and gas stations will have a points program. In some cases, your credit card may offer additional rewards/bonus points on these types of purchases.
Now that we have gotten the boring stuff out of the way, let's talk about the fun stuff – point stacking. Point stacking is awesome because you can turn those necessary purchases into something fun, you're saving money and even though it's legit it will feel like you're gaming the system.
The easiest way to explain point stacking is to give you a couple of examples of what I do.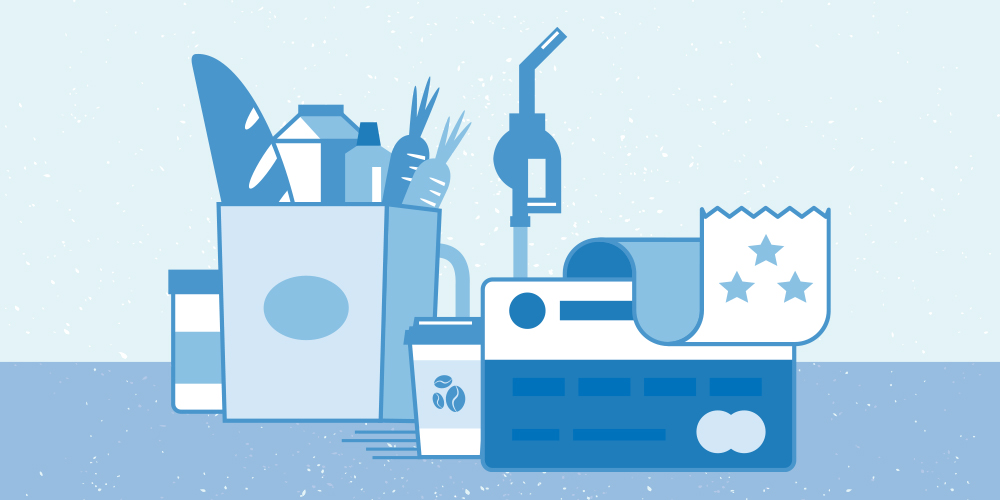 Buying gas
I am not loyal to any one gas station; I go where the deals are. But for this example I'm going to talk about Esso. I am an AMA member and they offer reloadable Esso gas cards that you manage through your AMA online account. Here's how it all works together to stack your points:
Visit any AMA and get yourself an Esso Reloadable Card (keep in mind you'll need to load it for the first time while you're there). Connect your credit card (preferably one that gets you points or cash back) through the AMA website. I use my Servus World Elite® Mastercard®. In AMA's online account you can choose any amount to auto-reload the card with funds. Basically, you're pre-paying for gas, but you're going to buy it anyway so why not? Download the Esso Speedpass app to your phone (iPhone or Android) and connect your shiny new Esso Reloadable Card. In the Speedpass app you can also connect your Esso Extra points card (PC Optimum was just added to the app as a loyalty card option) and if you go into any Esso gas station they will give you a 2.5¢/litre gas discount card, you just have to ask.
The best part: once you're all set up you won't have to think about it, just use the app to buy your gas and the points will start rolling in. In this situation, I'll earn 2% AMA Reward Dollars, save 2.5¢/litre, earn 1 Esso Extra point/dollar spent and earn 2 Circle Reward points/dollar spent. I take advantage of four different reward programs for one tank of gas. For 50 litres of gas at 106.4¢ (108.9¢ - 2.5¢) it costs me $53.20. What does that add up to?
106 Circle Rewards® points with my Servus World Elite Mastercard.
$1.06 in AMA Reward Dollars
53 Esso Extra Points – you can redeem these points for gas discount cards, gas, car washes, lotto tickets, partner e-Gift Cards or for In-Store Rewards.
$1.25 savings on the gas
Bonus tips
If you have someone else in your household that drives, get more than one gas card from AMA.
The Esso Speedpass app is awesome! I like using it almost as much as the Starbucks app. I pay for gas in my car before I get out. No more trying to figure out the pay at the pump swipe, tap whatever. Open the app, select your pump number, pump gas and you're done.
Buying groceries
Again, I'm not loyal to any one grocery store, I go where the deals are. In this example I'm going to talk about Safeway. I only go to Safeway when there's a spend $100 get 100 Airmiles bonus. In this situation I'll earn a minimum of 105 Airmiles for spending $100, but I also get a 5¢/litre Safeway gas discount that's sometimes usable at Shell gas stations (Airmiles partner) and 2 Circle Reward points for every dollar spent. Let's say I spend $100 on groceries. What does that add up to?
200 Circle Rewards points with my Servus World Elite Mastercard.
105 Airmiles (100 bonus offer + 1 for every $20 spent)
A gas coupon to save 5¢/litre at Safeway gas bars or Shell stations.
Bonus tips
When I do shop at Safeway I keep an eye out for additional items that have bonus offers, like buy 2 get X bonus miles. When I take advantage of these offers I usually buy toilet paper or paper towel because they'll also be on sale (pro tip: NEVER buy toilet paper or paper towel at regular price, it always goes on sale).
Make your life easier
I hope by this point I've shown you that point stacking can be easy to take advantage of. It may sound like a lot of work to figure out, but truthfully, I spent more time planning and writing it out for this blog than figuring it out for myself. Here are some final tips to make point stacking easier:
You don't have to carry the cards in your wallet anymore. Download your favorite store's app or a point card management app. I use the CardStar iPhone app.
Never miss out on miles. If you are an Airmiles collector, Airmilesshops.ca just launched a browser extension for Chrome. It will remind you that you can get miles as you online shop. No more going to the website to see if your favorite stores are a partner.
Watch out for bonus point events and special offers. Airmiles and PC Optimum have become pretty competitive and I see really good offers from both almost weekly. If you have a Servus Mastercard, keep an eye out for special point incentive offers as well.
Now it's your turn – decide what you want to use your points for and that will help you figure out the right points program(s) for you. The fastest way to earn points is to find reward programs that allow you to earn on the things you purchase regularly. Do you want cash-back to increase your savings or add to your investments (hello Circle Rewards GIC)? Maybe to pay off your credit card? Or are you interested in saving points for a trip or merchandise? You decide.