Planning to take a trip? We've gathered all the things you should consider in the first part of our travel mini-series.
The thought of jetting off to an exotic destination, or let's be honest even venturing beyond your own city limits, is exciting to look forward to. It also usually requires a lot of planning. If that's not really your thing (or even if it is), here are some things to consider while you're starting to plan, up until you're getting ready to leave.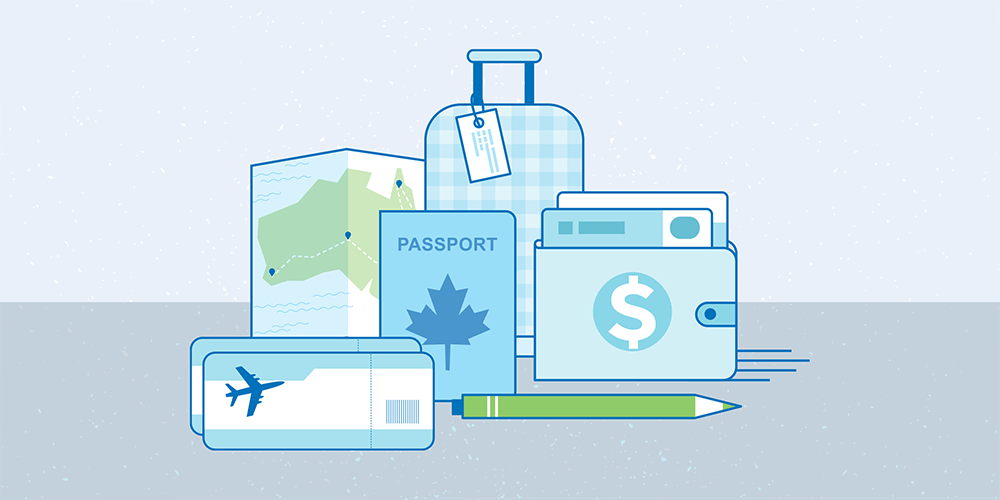 Where and when to go
You probably already have a dream destination in mind – maybe somewhere that's been on your bucket list or somewhere you've travelled before that you've been wanting to return to. If you're planning to go abroad, it's a good idea to find out whether there are any travel advisories for the area. The Government of Canada is the best source for Travel Advice and Advisories if you're planning an international trip. Once you've chosen a destination, the site Best Time To Go offers great information about timing considerations like weather, daily cost of living, popular sites to see and more.
Score a great deal on:
Flights. If you've got a travel rewards credit card (our favourite is the Servus World Elite Mastercard®) check out your reward balance to find out if you can redeem for some (or all) of your airfare costs. Then use your card to pay for any outstanding balance and you'll be replenishing your reward account instantly. Consider other perks your card may have such as insurance for trip cancellation, interruption or baggage delays, or access to travel assistance services while you're away.
Accommodations. Just like for flight redemptions, some credit card rewards programs (like Servus Circle Rewards™) also offer the opportunity to redeem your points for accommodations. Alternatively, consider getting a better rate by bundling your airfare and hotel through an airline at the time of booking. Vacation rental services like AirBnB or VRBO offer great deals on homes or condos, perfect if you're travelling as a family or with a larger group.
Activities. Depending on the city or region you're travelling to, there are some great options available to bundle the cost of the activities, such as tourist attractions, museums and entertainment. Check out whether your destination has a City Pass, available for many North American and European cities. City Passes give you admission to local tourist sites/activities for a combined price that's lower than paying for each activity separately, saving you money and time (some let you skip the lineup at popular sites).
What to pack/prepare
It's a good idea to have a packing strategy leading up to departure date. Having a checklist is a handy way to organize your stuff so you don't forget anything important. Depending on the type of trip you're taking, a simple Google search will turn up plenty of helpful lists. In the event your baggage is lost, a good tip is to keep a digital copy of all your important cards and documents (credit/debit cards, airline tickets, passports/visas). You can do this by taking a photo with your phone/tablet, opting in for email confirmations for your travel documents or adding your payment cards to your phone's digital wallet.
Speaking of your phone, the options for travel plans is something else you'll want to investigate. If you're travelling beyond Canada, you can avoid costly roaming charges by contacting your carrier and opting in for special plans that allow you to make calls and use data while you're gone. Lastly, don't forget to sign up for online banking or download your mobile banking app so you can easily track your spending on the go.
Plan for the unexpected
In the excitement of planning the fun parts of you trip, it's easy to forget to plan for any worst-case scenarios. That's where travel insurance comes in. There are plans available according to the duration of your trip, offering various types of coverage including medical emergencies and travel disruption. Many credit cards offer insurance when you use them, so check your policy before you leave. Additionally, if you receive benefits through your employer, they may also offer travel insurance as part of their package. If both of those don't cover what you need, you can always purchase additional third-party insurance like CUMIS. The minimal cost to protect yourself (just in case) is always worth it.
Have a payment strategy
Undoubtedly, you're going to be spending money frequently during your trip so it's helpful to think about what options are available to you, as your choices might be limited depending on where you're travelling.
Cash. Many places at home and abroad offer currency exchange, but you'll usually get the best rate at your bank, and your fee is generally lower (our members get good rates and free exchange on USD, Euro and Sterling). If you travel to the US regularly, you might consider opening a US account (we have some great ones) so you can avoid the impact fluctuations in the exchange rate have on your money's value (use your US cash when the Canadian dollar is low and vice versa).
Debit and credit. A safe bet is to plan to bring a primary credit card (likely that travel rewards card that'll let you rack up the points) and another back up credit card or debit card. Remember that if you spend in foreign currency your card charges will show in Canadian dollars at the daily exchange rate and possibly with an additional fee, so it's best to confirm with your credit card issuer or bank how they'll calculate your changes prior to leaving.
Digital wallet. For convenience, if you want to ditch your wallet while you're out and about, digital wallet payments like Apple Pay® or Samsung Pay let you pay with your phone. These services are commonly available wherever Interac Flash® is accepted.
Keep the lights on while you're gone
In the excitement of counting down the days until you leave, don't forget to take care of the everyday tasks that need to continue while you're gone. Set up automatic payments for any bills that will be due while you're away so you don't get hit with late charges. If your trip is more than a few days, you'll probably want to ask a friend or neighbour to check in periodically to collect any piled up mail and keep a general eye on things. If you're super savvy, you could even earn some extra cash by renting out your place until you're back.
Now that you've planned out the details, it's time to count down the days. Bon voyage!
Read Part 2: Enjoying your trip
® Mastercard is a registered trademark, and the circles design is a trademark of Mastercard International Incorporated. ™Servus Circle Rewards is a registered trademark of Servus Credit Union Ltd. ® INTERAC FLASH is a registered trademark of Interac Inc., used under license. ® Apple Pay is a trademark of Apple Inc.