Read the first part of our Travel mini-series: Planning your trip
Leaving on a trip? In the final part of our travel mini-series, we've got your emergency what-ifs covered so you can focus on making the most of it.
The day you've been waiting for has finally arrived and you're jetting off on an exciting vacation! You're packed and prepared for all the exciting things you're going to do and now it's time to cover all the "in case of" scenarios so they don't derail your fun.
If you lose your wallet or passport
This is never a good feeling. But rather than panic, your first step should be to call your bank and credit card companies. If you took our advice and snapped a photo of your cards on your phone, you can find their contact numbers on the back of your cards. Otherwise, check in their mobile app (if you have it) or a trusty Google search will find them. When you call, they will cancel your cards and can help by rushing a replacement card to you if need be.
You can avoid being stranded, with no access to money, if you don't "put all your eggs in one basket" – or this case – wallet. If your hotel room has a secure safe, consider leaving one of your cards and a bit of cash behind. This way you'll have a backup. The same goes for your passport – leave it behind if you won't need it. If the worst-case scenario happens and your passport is lost or stolen while you're abroad, contact the nearest Canadian consulate for help.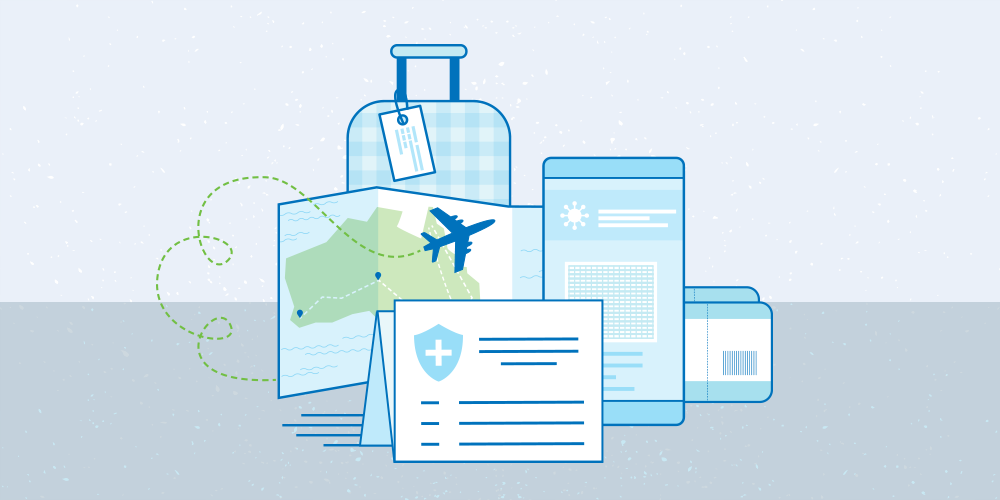 If there's an accident or emergency event
Because you read Part 1 of this travel mini-series, you purchased (or confirmed you already had) travel insurance coverage – smart move. Knowing you're covered is good peace of mind but knowing who to call to make a claim will give you extra confidence. Depending on your policy your coverage may vary. It's common for travel insurance to include health benefits if you're injured and/or hospitalized. There may also be additional coverage options for reimbursement in the event of flight cancellations or unexpected changes, as well as benefits to cover your baggage in case it's lost.
If you happen to have insurance through your credit card and a separate policy you purchased (not a bad idea to cover all your bases), it can be more complicated to know which company to contact to make a claim. If you're a Servus member you have the option of various levels of coverage through many Servus Mastercard® credit cards, through our travel insurance partner (CUMIS) or a combination of both. Here's a helpful comparison showing your coverage options.
If you are travelling to a high-risk country as deemed by the Government of Canada, make sure your insurance is still applicable!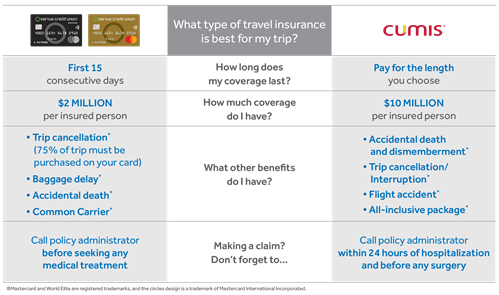 Hopefully your vacation won't include a trip to the emergency room or missing luggage, but if it does, having the right insurance coverage helps you make it home safely and could even prevent an early end to your travels.
You made it home, now what?
Now that you're home, relaxed and refreshed, there are a couple things you'll want to do to wrap up from your trip. You might have leftover foreign currency and, unless you have plans to return in the near future, you'll probably want to offload it. You can take it back to your bank and convert it back to Canadian currency, but keep in mind this conversion rate will be a bit less than the posted exchange rate. Alternatively, if you happen to know someone planning to travel to that country, see if they're willing to trade for the going exchange rate (a win for both of you).
In the weeks after your trip when you receive your credit card and bank statements, you'll want to check closely that you recognize each transaction. If anything seems incorrect, contact your bank or credit card company as soon as possible. If everything is accurate then you're good to start planning your next adventure!
The CUMIS Travel Insurance program distributed by Servus is underwritten by CUMIS General Insurance Company, a member of The Co-operators group of companies and administrated by Allianz Global Assistance. ®/™ Servus Credit Union, Servus, Circle Rewards, the Servus circle and all associated logos are the intellectual property of Servus Credit Union.