If there's ever been a time to consider seeking financial advice, it's now. Finances have always been tricky to manage but during the COVID-19 pandemic they can be even trickier.
When the financial road ahead twists and turns, you want a steady hand on the wheel. Experience can help you to see around sharp corners, stay the course and get you to where you want to go.
Did you know that investors who rely on the help and support of a financial professional are more likely to achieve their financial goals with less worry, less hassle and more gains? That's right. Statistics show that households in all income groups that work with an advisor average about three times the net worth of those who don't.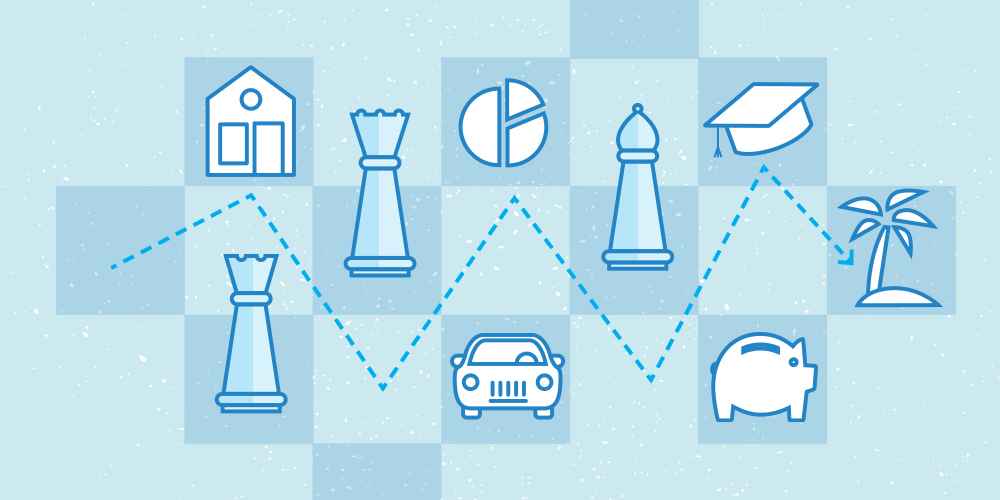 Tips from the advisor who advises the pros
Doug Carroll is a Tax and Estate Specialist with Aviso Wealth Inc. who has more than 25 years of experience and a law degree. He now coaches wealth advisors, including those at Servus.
"The importance of planning has not changed due to the pandemic, but people are likely more conscious of the danger of the lack of planning," says Carroll. "All of us can benefit by heeding the call and revisiting our financial conditions in a focused frame of mind."
So, let's consider what financial planning is and why it's important to you, especially during times of uncertainty.
The plan starts with you
When you hear the term 'financial planning' your first thought might be about investing, says Carroll. That's understandable. It generally comes up when discussing investments.
"Financial planning is actually about you, the person," he says. "It's about getting a clear picture of what's important to you personally – where you are and where you're going in life."
Then, you can look at what financial steps to take to help you address your personal needs and reach your goals.
"Especially now, when we're experiencing health, social and economic uncertainty during this pandemic, financial planning can help us feel comforted and confident – and not panicking – as we work through it," says Carroll.
A wealth advisor has expertise, training and resources that you can tap into, says Carroll. They assist you in connecting with who you are and what you're trying to achieve. An advisor has the strategies, tools and financial products that will help you get there.
"They ask a lot of questions because they want to know as much as possible about the people they're serving," he says.
Three questions to ask yourself before meeting an advisor
Carroll says an advisor will usually propose a schedule of communication with you based on his or her experience dealing with clients in similar circumstances. Here's how you can get ready.
1. Where are you in your life and what are your goals?
It's important both you and your advisor understand this as best you can, says Carroll. Things can get complicated when you get into money matters directly, so consider yourself and what you want to accomplish, and then move onto discussing money.
"First, it's inward looking to anchor your purpose," says Carroll. "Then it's outward looking [the actual finances] to plan to meet that purpose."
2. What is your highest priority financial concern right now?
Something has prompted you to initiate or accept an appointment, so what is it? By opening up and addressing this concern first, you can relieve initial stress. You won't necessarily arrive at "the answer" immediately and you may even defer it, but it's what's on your mind, so you need to consider it up front.
3. What are you paying for?
Be clear on what you're paying for. Are you looking for advice on finances generally, advice on a particular financial product or transaction, or are you looking to make a purchase?
All of these are appropriate situations to engage an advisor, says Carroll. You and your advisor should be on the same page from the outset.
How to prepare for meeting an advisor
Look to your advisor to guide you on the information required and any necessary documents for review, says Carroll. It's what's known as the discovery process.
"If you're looking for a comprehensive view, the information and documentation gathering process will be extensive," he says. "On the other hand, if you've determined that your engagement has a narrow focus, then the discovery process will be narrow."
While meeting in-person is best, the pandemic has made doing so a challenge, says Carroll. You'll be guided by your Servus advisor as to the best way to communicate.
Get a plan that fits you
You may live in a small town, the suburbs or the heart of the city. You may have a hands-on labour job or spend much of your day behind a desk with a computer. You may be starting a family early in your earning years or be either nearing or enjoying your retirement.
No matter where you live, what you do or what stage of life you're at, the financial plan has to be molded to your circumstances.
"It's the advisor's job to understand the client so the appropriate components are used, in the appropriate proportions," says Carroll.
There are many considerations, strategies and products that can overlap with how others may plan. An advisor has expertise in the financial components that go into a plan.
Step by step with your advisor
Express your expectations so that together you can decide what will work for both of you.
During the information gathering and discovery process, there will likely be multiple meetings over the course of weeks or a couple of months.
Once a plan is put into action, it should include a set review date.
Ongoing, there should be an annual review, but the advisor may suggest reconnecting sooner in the early stage of a relationship, maybe one to three months for a check-in.
Expect the unexpected
Apart from the calendar-based review, major life events may prompt another look.
Common events such as buying a home or retiring will be part of the plan to be reviewed and possibly adjusted at annual reviews, says Carroll.
Unexpected and unscheduled events may prompt a call to your advisor sooner, such as a new relationship, the birth of a child, a health concern or employment development. Advisors stay up to date with the latest financial tools and news.
"The best financial advisors are lifelong learners and excellent communicators," says Carroll. "They're required to maintain their technical knowledge and enjoy doing it. They get excited about sharing new developments with their clients."
Mutual funds and related financial planning services are offered through Credential Asset Management Inc. Mutual funds, other securities and securities related financial planning services are offered through Credential Securities, a division of Credential Qtrade Securities Inc. Credential Securities is a registered mark owned by Aviso Wealth Inc. Financial planning services are available only from advisors who hold financial planning accreditation from applicable regulatory authorities. Servus Wealth Strategies Ltd. is a subsidiary of Servus Credit Union Ltd. offering financial planning, life insurance and investments.