With travel still a relative uncertainty, we're all looking at spending significantly more time at home this summer. This might have inspired you to take on a home improvement project, or finally get around to completing an unfinished one.
Whether you'd like to upgrade your kitchen, finish a basement or tackle some backyard landscaping, here are some tips to help you plan for and achieve the financial goals to fund your dream reno.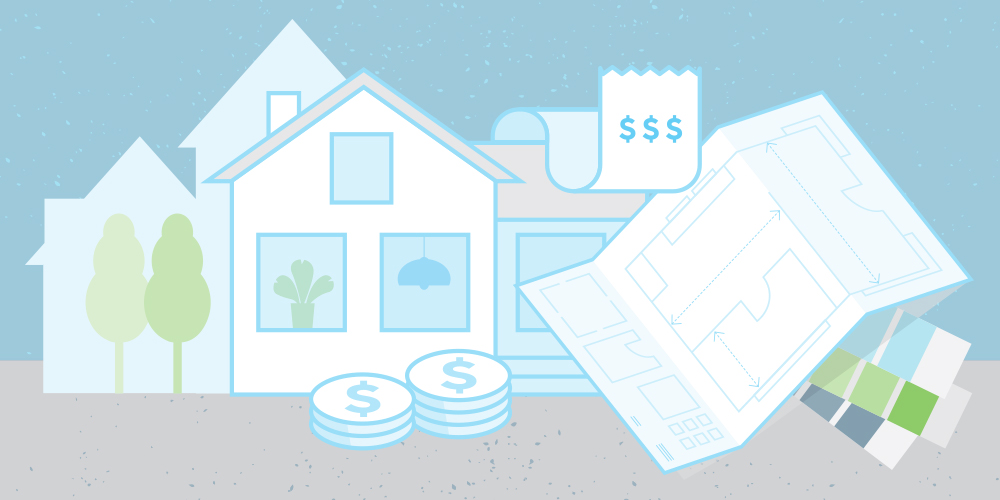 Choose your project wisely
Understanding the return on investment (ROI) of completing certain renovations can help you prioritize if there are multiple projects around your house you'd like to tackle. Real estate specialists will tell you that kitchens and bathrooms sell houses. Even if you're not planning to sell, it's still important to invest wisely in your home improvement projects.
Kitchens and bathrooms typically cost the most to update but you can expect to receive a higher rate of return. The money you spend will increase your home's value, which translates to equity for you. Putting these spaces at the top of your list makes good sense.
Also consider how long you plan to stay in your home. Is it your "forever home" or will you want to upgrade within two to five years as your family grows, or downsize heading into retirement?
It's probably not worth it to invest in more than cosmetic updates (paint, décor and other finishes) if you aren't planning to stay in your home long-term. In this case a good DIY might do the trick — you can find great inspiration on Pinterest or by searching home décor blogs.
Get quotes from multiple experts
Unfortunately, no amount of time spent studying HGTV shows can help you accurately predict the cost of your own renovation project (shocker, we know). With so many variables at play it's best to consult experts in your local area who know best.
Depending on the scale of the project you're tackling, you may want to enlist a general contractor who will know how to accurately price-out the costs for the various trades required (plumbers, electricians, etc.). The Government of Alberta has great tips for hiring a contractor who's qualified and properly licensed.
By doing your research you'll have an informed estimate of how much money your dream reno will cost. Just remember to adjust that figure for inflation depending on how long it's going to take you to save that amount (i.e. if the reno costs $10K today, add an additional 2-3% for each year of saving).
Start saving and/or make use of your existing equity
One of the hardest parts of home improvements can be the diligence it takes to save up to afford them. Once you've decided to make your project a priority, look at your monthly or weekly budget and see how much you can dedicate to this goal.
If you use Servus online banking, try our goal setting tool to help plan for reaching your goal by scheduling automatic contributions and stay motivated with visual progress tracking.
When choosing a haven for your savings, choose a product/account that pays interest on your money because that will help you reach your goal faster. A Servus High Yield Savings account is a great choice.
If you have a mortgage, consider talking with your financial advisor about how much equity you've built and the options available to leverage those funds (more on that below).
Even if you have the funds saved, or if you'll be taking advantage of a smart financing option to pay for your reno, consider using your Servus Mastercard® to process the payment. Most Servus Mastercard credit cards are eligible to earn Servus Circle Rewards® that you can redeem for cash back or toward other things. Transfer the amount from your savings onto your Mastercard account within 21 days and you'll avoid incurring any interest.
Earning rewards from your large purchase without paying extra interest is a win-win. For example: on a Servus World Elite® Mastercard® you earn 2 Circle Rewards points for every dollar spent, so a $10,000 purchase would earn you 20,000 points — or $200 cash back!
If you're going to finance, do it the smart way
Credit cards typically carry high interest rates so unless you have the cash to pay it off right away, using a credit card to pay for a reno project may not be the best solution for you.
What's a smarter way to finance? Enter the Home Equity Line of Credit (commonly known as a HELOC). A HELOC works the same as any other line of credit — you're approved for a certain amount and can withdraw funds as needed — but the collateral guaranteeing the loan is based on the equity you have in your house. A HELOC will have a better interest rate than a credit card and offers the flexibility to pay it off and withdraw again later if you're planning multiple projects over a period of time.
You could also look at a standard home equity loan (like a Servus renovation loan), rather than the revolving credit option of a HELOC, if you're only planning one project.

If you're a Servus member, you have an additional financing avenue to explore — a Profit Share® Rewards cash advance. Rather than wait for December to roll around (when you'd normally receive your reward), you may be eligible for an advance on this year's and future years' funds. Contact your financial advisor to find out if you qualify.
With these tips you're one step closer to making your dream space a reality. And if you need help along the way, Servus experts are available anytime to answer all your (money-related) renovation questions.