Let's be honest. Talking about finances with your partner isn't easy most of the time. And now the COVID-19 pandemic has put many marriages under the stress test as couples try to juggle work demands, financial strains and a lot of time stuck at home together during the lockdown.
Marriage is one of life's biggest steps, so you want your financial plan to work for the journey you're on together. You'll want to establish your savings and debt reduction goals, as well as make investment, retirement and estate plans. The COVID-19 pandemic has made clear how important it is to have emergency plans built into your financial plan as well.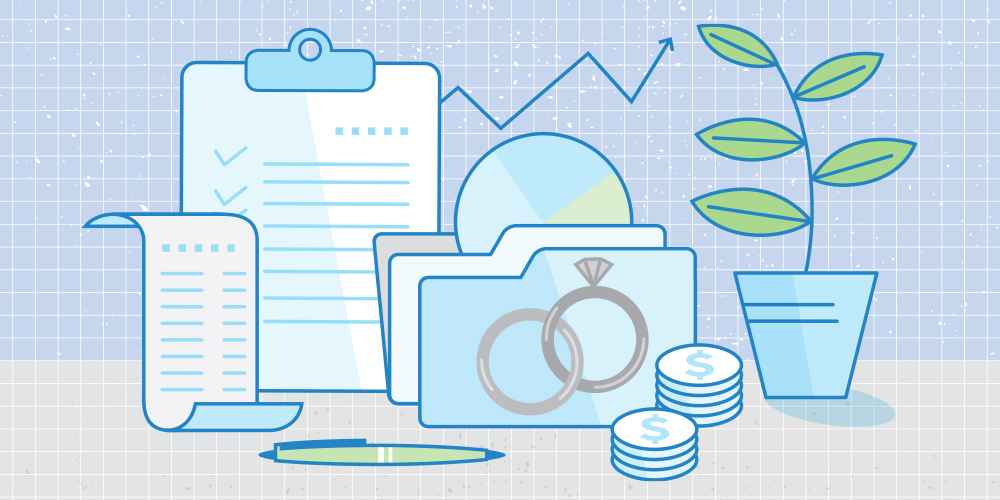 Conversation is the first and most important step
When you're planning your financial life together, you need to be on the same page and that starts with talking in detail about your current financial situation and your goals.
Discuss what you own and what you owe. This can include assets such as investments, savings and property, and debts such as car and student loans, credit cards, lines of credit and mortgages. Each of you brings your individual credit history to the marriage that can affect getting credit cards, loans, mortgages and lines of credit, for better or worse. Conversations about all these things lay the groundwork for paying off debt and building a strong foundation for the future.
You might need to discuss having a short-term and long-term financial strategy because of COVID-19. Most Canadians' budgets have dramatically changed as many have lost work and been on the Canada Emergency Response Benefit (CERB), or have deferred mortgage payments to make ends meet. Many expenses such as child care, entertainment spending and commuting costs also might have been dramatically reduced.
The point is, you're making financial decisions as a team. You want to work together to accomplish your goals, whether it's buying a home or saving for retirement.
Consider a willingness to discuss money and other big issues while maintaining open, clear and honest communication as an investment that can pay lifelong dividends. You might even find that during this stressful and uncertain time of COVID-19, taking concrete steps to come together financially might give you a better sense of control.
Investment planning will provide a road map to your future
Your long-term financial goals should include an investment strategy that benefits you both. It may be difficult to determine the forest from the trees, as you try and take a closeup look at what you need now and what you'll need in the future.
This is where a Servus wealth advisor can help you make smart and timely decisions. There's an array of investment products and a guide is helpful. You may receive benefits such as tax savings or be able to defer taxes, depending on your choices.
If you have children, you might want to look at a Registered Education Savings Plan (RESP) to save for their education. Products such as a Tax-Free Savings Account (TFSA) can help you to invest without paying taxes on the investment income you earn.
Retirement planning can make your later years golden
At some point, you'll be looking as a couple toward retirement. If you're just starting out, that'll seem a long way down the road. Even for near retirees, it might appear as something on the horizon, more far than near. The key is to plan early. Money management along with expert financial advice can get you to precisely where you want to be.
As a married couple, you'll want to discuss how retirement might look for the both of you. You need a goal to be able to reach it in the time that you want.
Do you envision pursuing hobbies during retirement, spending time with grandchildren or someday travelling? Just as every marriage is uniquely different, so are a couple's shared dreams.
The most common financial vehicle to help get you there is contributing consistently to a Registered Retirement Savings Plan (RRSP) which also helps you to defer taxes. It's just one of many tools that can be incorporated into a strategy that protects and grows your money while enabling you to reach your destination.
Estate planning protects loved ones with peace of mind
An estate plan looks toward the end of your life. No one likes to consider becoming gravely ill or passing away but the pandemic has brought such eventualities to the forefront of people's minds, and has triggered a rise in the number of people making wills and estate plans.
Think of it this way – you're planning for peace of mind today in a way so that your loved ones, the next generation and, perhaps most importantly, your spouse are cared for should something happen to you.
A will is one component of an estate plan. A tax-efficient will determines how your estate (what you own and what you owe) will be dispersed according to your wishes.
If you already have a will, updating it when you get married is a good idea. If you don't have one, consider creating one sooner rather than later. It's an aspect of your shared financial plan that should be included in discussions with your spouse. If you were to die with no will, your estate would be determined by the province or territory where you live.
Servus estate planning experts can help you and, if needed, refer you to an insurance specialist, investment advisor, corporate executor or lawyer. You'll have the major areas in legal documents covered and won't waste any time worrying.
Finding what you want and achieving it
Your marriage can be a haven for good and tough times, a place where you can both discover how to create a harmonious plan to get the most out of your incomes and enjoy your lives together. It can also require some work so you're both getting what you want.
Now's the time to begin planning for your future – together.
Servus Wealth Strategies Ltd. is a subsidiary of Servus Credit Union Ltd. offering financial planning, life insurance and investments.