Starting a business is an impressive accomplishment. Opening a business during a global pandemic? Well now that takes an "all in" kind of attitude.
Driven by a burning desire to own their own business, Pauline Nario and Alexander Benedicto forged ahead with their plans to open the doors of Beebop Doughnut Shop in Calgary, just before everything shut down due to COVID-19.
"Even at the best of times, opening up a business isn't easy," explains Alexander. "Right now, it's just the two of us. Every experience we encounter is new. It adds to the stress of having this pandemic and trying to make it work."
This entrepreneurial spirit goes way back to Alexander's childhood when his mom would give him a certain amount of money to last him for the whole week. "I would buy something at the store and then sell it to my classmates to make a little extra money," he recalled. "Ever since then, I've said I want to own my own business."
They had started up a business previously in Banff a few years ago. But it was really a "side of the desk" kind of commitment that they ran around their full-time jobs, and eventually they decided to close it down. This time, however, they decided to go all in. Pauline and Alexander knew they'd have to fully commit if they wanted their business to succeed so they quit their day jobs and got to work.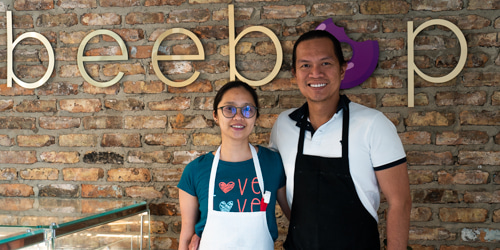 Spreading more than just a love of doughnuts
Beebop Doughnut Shop opened its doors on March 21 to introduce Calgarians to their playful take on the traditional doughnut. Fun flavours like peanut butter and jelly, marshmallow cream with crushed Oreo, and toasted almonds with coconut filling. "It's something unexpected because our doughnuts look more like a pastry. And all our products are made in-house from scratch," says Pauline.
Doughnuts spread happiness and that's something we all need, especially now. In the beginning, Pauline and Alexander weren't sure if customers would come with everything that was happening in Alberta and around the world at the time. But then, someone came into the shop to give it a try, posted a photo of one of their doughnuts to their 1 million+ Instagram followers, and Beebop gained over 200 followers within 20 minutes. "We couldn't believe it. My watch actually ran out of battery because of all the notifications after that post," Alexander says.
Word about Beebop spread and the customers have been coming ever since, keeping Pauline and Alexander busy – and that's just the way they like it. "We want to be here all the time, talking to customers and seeing them appreciate our work. That's a big part of why we're doing this and what motivates us."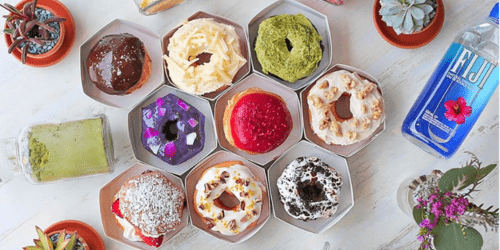 A financially fit business mindset
Pauline and Alexander run their business with financial fitness in mind, and they've managed to find unique ways of saving money without sacrificing the quality Beebop is known for. From purchasing six-sided doughnut boxes that cost less per unit to using a hexagon-shaped doughnut cutter to reduce food waste, they're staying financially fit as they grow their business.
"We don't want to waste anything. When we first opened, we'd have full displays of doughnuts in the shop at closing time and we'd just take them home and have doughnuts for dinner," Alexander laughs. To reduce this waste, Beebop decided to offer a "made-to-order" approach. "When we run out of something the customer wants, we offer to make it fresh for them, and more often than not, they're willing to wait, and they like actually seeing how the doughnuts are made," Pauline explains.
When it comes to financial advice, the owners of Beebop work with Martin Kim, Small Business Advisor at Servus. "We love Martin! We were just a couple who wanted to open a business from scratch and he believed in us. We're really grateful for that." The credit union model was a good fit for Pauline and Alexander, who appreciate what makes Servus different. "It's hard to explain, but they're not like when you go into a bank. We were treated well and they had time for us. They're very friendly, good people."
Tips for aspiring entrepreneurs
Pauline and Alexander are a great local success story for others who are thinking about starting their own business. So, what are their biggest tips?
You have to be all in and take the risk.
Be prepared to work hard, especially at the beginning.
Be open to feedback. All comments from your customers are important because they help you learn and evolve.
Really get to know how your business works so you can explain the why to future employees.
We have to know… what's the story with the name Beebop?
"Beebop is a play on words. Our hexagon doughnut cutters look like honeycomb, and bebop is a genre in jazz music, which we like. And it's easy to say, especially for kids," Alexander explains.