In your financial journey you might have heard of a home equity line of credit or HELOC and wondered why you would use one. For homeowners with a mortgage, a HELOC can be a better financing alternative instead of a traditional loan or line of credit when you're in need of extra funds.
Whether it's fixing up the house, unexpected repairs or emergency bills, a HELOC can be used for a variety of purposes.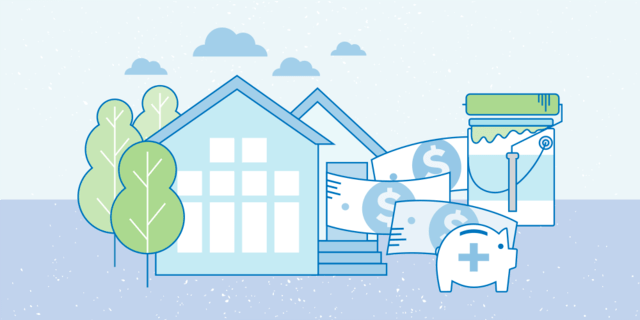 What is a HELOC?
A HELOC is a type of loan that is calculated based on the equity you have in your home. For homeowners, it's the difference between the balance owing on your mortgage and the home's value. It's also a secured loan, meaning the financial institution uses your home as the collateral when offering you the loan.
Many financial institutions offer a home equity line of credit (HELOC) option but the maximum percentage you are allowed to borrow is decided by the government.
To be eligible, first you need to have 20% either as a down payment on your home purchase or current home value. The total available for a HELOC would then be 65% of your home's purchase price or market value, and 15% in a term mortgage, if applicable.
For example, if you purchased a home for $350,000 and had a down payment of $70,000 your HELOC balance would be $227,500, with the remaining $52,500 as a term mortgage.

What are the benefits of a HELOC?
Flexibility
The money from your HELOC can be used for anything from financing renovations to an emergency fund for unexpected repairs or bills. For longer term projects like major home renovations, it allows more flexibility for borrowing over the course of time.
Low Interest Rates
One of the main benefits is that they often have lower interest rates, which makes them a great alternative to a personal term-loan or racking up credit card debt.
Revolving Credit
Because a HELOC also acts as revolving credit, you can borrow against it and pay it down over and over again without being restricted by a timeline or a single type of loan. The money can be used for a variety of purposes.
Is a HELOC right for you?
There are a few questions to ask yourself before getting a HELOC:
How does it fit in with your overall financial goals? Look at your monthly budget to see how much it can accommodate in the short and long term and how much you'll likely need to borrow overall.
Will it help expedite your goals and at what cost? If you're getting a HELOC to make home improvements to increase the value of your home — whether it's for resale or to make you more comfortable — that can help your financial goals in the long run.
How much equity do you currently have and what is your debt ratio? If you've owned your home for a while and have a good debt ratio, a HELOC could be a better option than for a brand-new homeowner who doesn't have much equity built up.
So whether you're thinking about investing in your next home renovation project or in need of extra funds for the unexpected (or both!), a HELOC can provide you with borrowing flexibility. Not sure where to start? Talk to a Servus financial advisor today to find out if it's right for you.