When you run a small or mid-sized business the lines between your roles as business owner and individual are often blurry. You're personally invested in your business's success and may wear many hats, at least when starting out.
One of the areas where the lines may blur is when it comes to using credit cards for business expenses. Spending using your personal credit card may seem appealing at first (hello rewards), but there are many reasons why getting a business credit card account can save you time and even help towards achieving your business goals.
Here are six reasons why using a business credit card can be better than a personal one.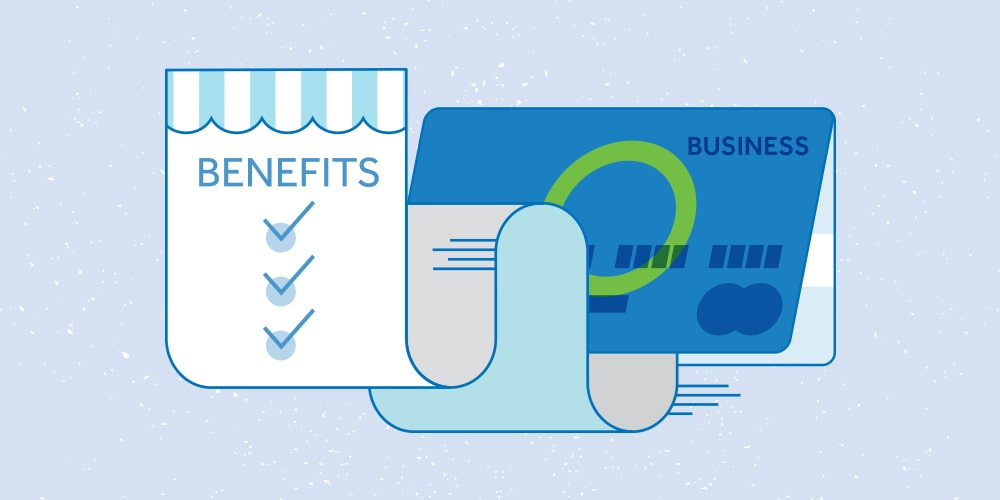 1. Tracking your expenses
Having a business credit card that's used solely for business expenses means you'll save a lot of hassle when it comes time to reconcile at the end of every month/quarter. Instead of having business expenses mixed in with life's other purchases on your personal credit card, you'll only see what's relevant to your business. You also eliminate the chance of missing/forgetting to claim one and ending up paying for something business-related out of your own pocket.
2. Having a higher credit limit
Opting for a business credit card means access to a higher spending limit than you might be offered/qualify for (or want) on a personal card. This flexibility can come in handy as your business grows and your financial needs evolve.
3. Developing a business credit history
Just like it's important to develop a credit history for yourself as an individual, it's equally as important to build one for your business. Your business's credit history can influence a financial institution's decision to lend to you if you ever apply for a loan or operating line of credit, even a mortgage. Having a business credit card also allows you to maintain separation between your personal credit score and that of your business, so they don't affect each other.
4. Maximizing rewards
Regular business expenses can add up fast, which means they can also earn a lot in rewards on a business credit card with a rewards program (like Servus's Business Rewards Mastercard®). The benefit of earning business rewards (as opposed to personal ones) is that you can redeem them for things to support your business, like statement credits (saving your business money), employee incentives such as gift cards and merchandise, or at Servus, even an investment towards your business's goals.
5. Centralizing decisions/control
If your business has multiple employees making purchases, having supplementary credit cards tied to your business's account can help you manage things like spending limits and billing processes. Setting a credit limit that's appropriate for each employee's scope of responsibilities can help avoid overspending. Choosing between consolidated billing (one account billing statement and only require one monthly minimum payment) or individual billing (each authorized user is required to make a monthly minimum payment) allows you to make the decision that best suits your business.
6. Enhancing insurance coverage
In the way that insurance benefits on personal credit cards are tailored to individuals, the same is true for those of business credit cards. Getting a business credit card with insurance can provide your business with benefits like travel enhanced coverage, rental vehicle benefits, and purchase assurance and extended warranty.
Creating (a bit of) separation between your business and personal life by spending with a business credit card can help your business run smoother and grow faster (if that's your goal!). Compare Servus's suite of business Mastercard credit cards and enjoy benefits perfectly suited to your business.