Jay Downton doesn't dream small, and the list of businesses he has on the go — and his ambitious expansion plans — speak to that philosophy.
Take for example Oodle Noodle, an authentic Asian restaurant born on Whyte Avenue in Edmonton. Jay was one of their best customers when the first location opened, supporting his friend, founder Sonny Pham, in his new business.
When Jay learned Sonny's dream was to run an Oodle Noodle factory to supply the restaurants, he couldn't let the opportunity pass by. As president of franchise operations for Oodle Noodle, he's helped the local chain grow to 14 stores in Edmonton and area, with four more scheduled to open soon.
And that's just Edmonton. Franchisees are opening a new restaurant in Airdrie in October, with a Calgary location to follow on 17th Avenue.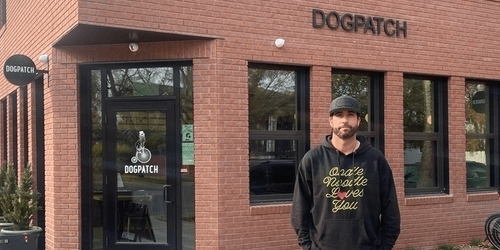 "We're trying to follow the same model as Edmonton where Whyte Ave was the first store." Jay said. "That cultural hotspot, entertainment district...that draws in people from surrounding areas."
Eventually, the goal is to have 20-23 restaurants in southern Alberta. That specific number is in the spirit of partnership. Sonny's factory can service 40 restaurants, so there have to be 40 to service.
"I want to get him his 40 stores and that's my mission and promise to Sonny," Jay said.
It's not an easy task to support 40+ franchisees, so Jay is laying the groundwork now. He's working with Servus Credit Union to develop a franchisee lending package so new franchisees can focus on training and making great food.
"One of the things we want to do as a franchisor is make sure some of those giant perceived hurdles are addressed right out of the gate. We've already worked those out for you. Here's where you go for your bank, here's where you go for your insurance."
With the stress of securing financing, insurance and other financial necessities off their plates, franchisees can spend their time creating their restaurant experience.
For most people, expanding to 40 stores across Alberta (and once that's done, into Saskatchewan) would be a full-time job. But for Jay, it's just one of his many business goals.
He recently opened Umphreville Block, the newest amenity building in Riverdale, featuring Dogpatch Bistro, Bread + Butter Bakery, office space and two bed and breakfast suites.
Half of the office space is for the expanding team at Oodle Noodle and the other half is for a business he cofounded, Oilersnation and the Nation Network.
The Nation Network, a 15-site network of hockey sites serving 5.5 million visitors monthly, recently closed a round of funding with local investment group Altitude Investments.
"Ultimately we have a plan to grow the Nation to be an all-encompassing hockey company," Jay said.
While the Nation is poised for a huge expansion, all Jay's businesses started as litmus tests for his next big play. Oilersnation was a place to test all the pieces that grew into the Nation Network. His coffee shop, Little Brick, was a market test for the Umphreville Block concept which brought more local food options to Riverdale.
Now, Umphreville's bed and breakfast suites are a test for what Jay hopes will someday be a boutique hotel concept in the river valley. He's meeting with the Servus team soon to talk about what's next in his real estate portfolio.
"This is non-traditional real estate with how it's done," Jay said. "We're breaking the model and want to push that model and Servus is willing to work with us on it."
Jay says the key to his constant growth is his enthusiasm for Edmonton and determination to continue to build business and create jobs in Alberta.
"I'm a prairie person," Jay said. "I think we know how to talk to prairie people."
He expects the same of his credit union.
"[Servus is] able to understand and visualize what we're trying to do because this is in their backyard. It's an Alberta institution that understands our market."
Have your own vision? Contact us with a Servus Credit Union business financing specialist and start talking about how to get there.