If you're planning to make the annual migration to sunnier, warmer destinations as a Canadian snowbird, you'll need to consider the headwinds brought by COVID-19 and its unpredictable variants.
In fact, the first place you may want to visit is your travel plan, and that should include travel insurance.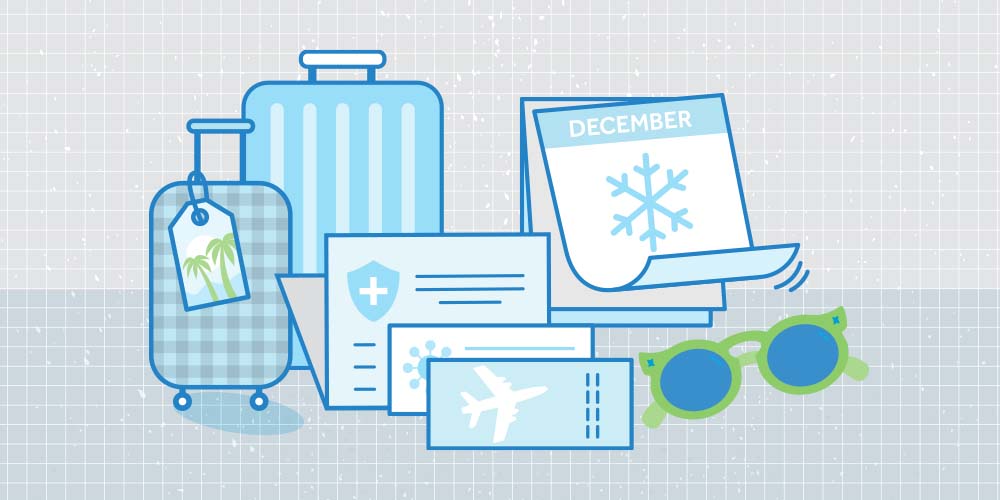 Whether you intend to travel within Canada or internationally, CUMIS, the travel insurance provider to Servus, has you covered. Emergency medical care, cancellations, restrictions and other aspects of travel insurance vary in importance according to the traveller and the destination. No one size fits all, so do your homework to get the plan that best fits you.
Government pandemic advisories, differing regional requirements and fluctuating health resources will impact your decision. Having the right insurance can make a trip to the emergency room or a missed flight less worrisome.
Travel insurance in the age of COVID-19
Your research into travel insurance can show that while there are exclusions in policies due to the pandemic, you do have options for coverage, such as the CUMIS COVID-19 Insurance and Assistance Plan.
With CUMIS, the standard or "core" travel emergency plan will cover members for all eligible claims during travel outside of your province and outside of Canada. Within that standard plan, though, there are exclusions that may limit the amounts payable or even make the claim not eligible. For example, while a broken leg is an eligible claim, a broken leg due to intoxication or intentional self-harm such as a stunt activity is not covered.
Given the current Government of Canada travel advisory, regarding avoiding non-essential travel outside of the country until further notice, the plan wording states that if your sickness or injury is due to the reason for the advisory, coverage will not be provided for COVID-related claims and quarantine.
In other words, travelling outside of Canada during the government advisory impacts your ability to make COVID-related travel insurance claims.
This is where it is recommended that a member purchase the COVID-19 Insurance and Assistance Plan when travelling outside of Canada to the United States, Mexico, overseas to Europe or any other part of the world. If you have a COVID-related medical claim or quarantine expenses, you will now have coverage.
If you choose not to purchase the COVID-19 Insurance and Assistance Plan, it's your option to have all other benefits continue to be valid in the CUMIS standard plan, but to "pay out of pocket" should a COVID-related expense arise.
Stay informed when making travel plans this year
Enthusiasm for travel inside and outside of Canada rides the roller coaster waves of pandemic health news. A 2021 summer Snowbird Advisor survey suggested nine in 10 snowbirds intended to leave Canada for the winter season, although at that time the Delta variant's fourth wave wasn't fully acknowledged as ascendant. It has since impacted everything from crossing land borders to international flights. The new Mu variant could be even more vaccine resistant. That is how quickly things can change from month to month and season to season.
There's been a spate of airline seat sales by both WestJet and Air Canada, along with most other airlines. If you're driving, higher gas prices are predicted to ease in the fall but be prepared to have these prices remain as wild cards in your budget.
The United States extended its land border restriction for Canada and Mexico until October 21 after it was widely expected to have been eased. Fluctuating travel restrictions that vary among countries, along with vaccination and other health policies that can vary from state to state in the United States, are making getting away more challenging than ever.
An estimated 300,000 to 375,000 snowbirds have traditionally travelled annually from Canada to primarily the United States and Mexico, according to Statistics Canada, although some Canadians choose to simply stay within the country and travel west to British Columbia, where weather is usually warmer than elsewhere during the winter.
Along with restrictions and rules that may arise with travel to another country, you must also be mindful of potential restrictions in Canada for incoming travellers that may be in place when you want to return.
While it's impossible to accurately peer into the future and determine exactly what hurdles may arise, given that the pandemic and responses to it are constantly changing, you can prepare yourself with a solid but flexible plan that protects your health and well-being as best as possible.
Track federal government travel advisories and rules
If you're planning on leaving Canada, regardless of your destination, a good first stop is Travel.gc.ca, the Government of Canada travel information website. Here, you'll find up-to-date travel advice and advisories along with COVID-19 travel, quarantine, border and return to Canada information. There is a travel abroad section that covers travel health and safety, air travel, border wait times and more.
Planning on travelling between provinces and territories in Canada? Whether you drive or fly, check out the provincial requirements.
If you are aiming to spend part of the winter in one or more states within the United States, you can track the levels of the pandemic regionally with the Centers for Disease Control and Prevention COVID Data Tracker, which includes forecasting. This can help if you have concerns about potential medical emergencies and availability of hospital resources.
Global Affairs Canada issues advisory levels for every country. Basically, if it's a Level 3 advisory, avoid all non-essential travel. If it's a Level 4 advisory, avoid all travel. Levels 3 and 4 can impact your travel insurance, making a COVID-related medical claim for you a challenge, so you must check with your insurer to understand the policy.
So, as part of your plan to travel outside of Canada:
research your travel destination
plan ahead
check the requirements of the country you're visiting
review and follow Government of Canada travel advisories
Finally, be sure to doublecheck travel insurance included with your credit cards. The Servus World Elite Mastercard provides comprehensive benefits on both your travel and purchases.