The days are getting shorter, the air is getting colder and that means that the holidays are fast approaching! Getting a head start on your shopping can mean less headaches financially and at the postbox. Help prevent holiday giving woes with some of these handy tips so the only red (and green) you'll be seeing are decorations, not in your bank account.
1. Shop early
If your shopping motto is "by tomorrow, buy tomorrow", you might want to rethink that this holiday season. Online shopping demands are already increasing, as are shipping times and you could be left with an empty cart and mailbox if you wait too long. If things don't arrive on time, a card with a picture of the item usually works until it arrives — after all, it's the thought that counts.
2. Shop local
Skip the long lines and shipping times by buying local. There's lots of great small businesses to shop from across the province and you get the satisfaction of knowing you're supporting the community. Shop early with local makers too since they often need a little bit more time to create the item. Buying gift cards to makers or shops so the recipient can also choose is always a great idea too.
3. Budget
Set a budget and stick to it! Before you start your shopping, think ahead about who you have to buy for and how much you'll have to spend. If you can, spread out your purchases over a few weeks instead of buying them all in a short amount of time. You can also redeem points like your Circle Rewards for merchandise, gift cards or cash back on your statement.
4. Thrift + Regift
Sometimes the best present is the most unique one. Check out your local thrift stores and other secondhand boutiques for gift ideas. Not only is it better for the environment, but it'll be a one-of-a-kind present too. You can also shop your own home or closet. Did you get some serving bowls that have been collecting dust in the basement? Regift them. (Just make sure you're not giving them back to the original gifter!)
5. Experiences
If the toybox is overflowing, consider purchasing experiences instead. A coupon to visit local attractions, theatre or concert tickets, paying for music or sport lessons, or a weekend adventure together — the memories will likely last longer than the toys and they get to spend time doing something they enjoy. Great for friends and family near and far.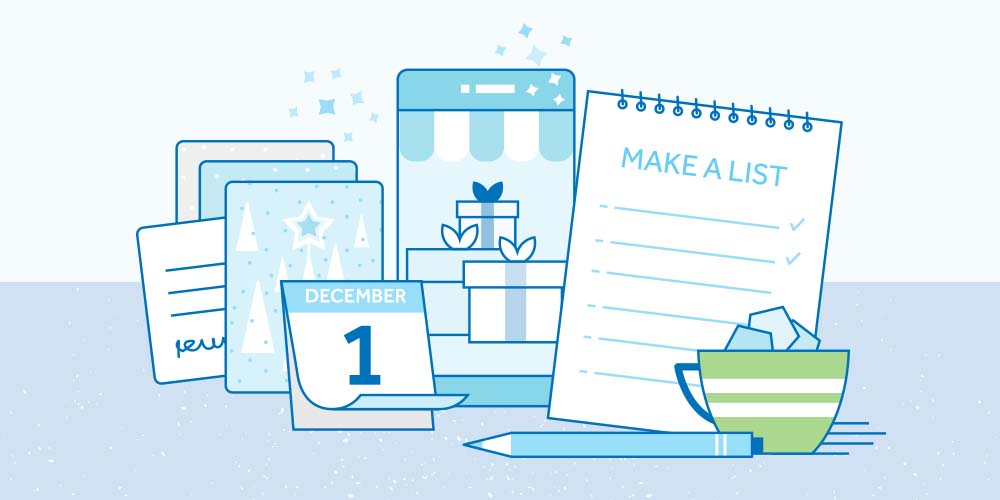 Don't be afraid to have honest conversations with friends and family about holiday gifting expectations. Set dollar amount limits, do smaller exchanges, or create your own holiday and celebrate in the new year so you can take advantage of the sales.
Getting ahead of the holiday rush can help you save time and money, meaning you'll have more to spend with those you care about. So start making those lists, checking them twice and stay within your budget.
In addition to using your Circle Rewards Points, you can also use the Top-Up Savings tool in online banking to round up your purchases and put the difference into a savings account.
Bonus tip: if you really want to make it onto the nice list, use eco-friendly wrapping like old maps, newspapers, cloth or fabric, reusable gift boxes and bags, or plain brown paper that can be recycled.