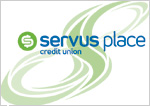 Servus Credit Union is very excited to be the naming sponsor for Servus Credit Union Place. We believe this is a great partnership because Servus Credit Union and the City of St. Albert share a purpose – to help people live better lives. Servus Place promotes physical health and Servus Credit Union helps people achieve better financial health. Servus recognizes that just as health and wellness are essential to a better quality of life, so is financial fitness.
Servus Credit Union Place offers:
State-of-the-art fitness & wellness centre
Indoor running track
3 fitness studios
3 ice arenas
2 indoor soccer fields
3 gymnasium courts
Kid's Playzone, water play centre
Child-minding services
And more!
Servus Credit Union member-owners receive a 10% discount on their annual membership to the facility.
Visit servusplace.ca or call 780.418.6088 for more information.