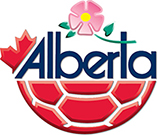 Servus is a proud sponsor of the Alberta Soccer Association (ASA). We are happy to show our support as a community partner and encourage healthy competition at all levels.
We are delighted to continue our partnership as the title sponsor of the Provincial Championships which draws over 600 teams and 10,000 players across Alberta each year to vie for the highest achievement of their season.
The Alberta Soccer Association is the largest individual sports association in Alberta with 90,000 registered members. We first partnered with the ASA in 2014.