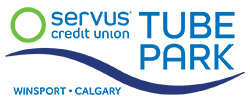 In December 2021, Servus was proud to announce the naming of the Servus Tube Park as our partnership with WinSport in Calgary continued to grow.
Our Servus members are eligible for various discounts during the winter season at our partner WinSport in Calgary!
When making a purchase show either your Servus Member Card® (debit card) or Servus Mastercard® as proof of membership (along with your ID). Discounts are available in person only at Guest Services at WinSport.
As a member you can enjoy the following discounts during the winter season at WinSport in Calgary:
10% off ski and snowboard programs
10% off Saturday and Sunday Servus Tube Park tickets (offer is not available on Servus Fridays)
10% discount on food and beverage
Blackout dates may apply
You are also eligible for significant savings on the WinSport Standard Access Season Pass**.
The discount on the standard access pass is available until 5 p.m. on December 31, 2023.
Standard Access Pass**

Full Price*

Member Price*

Member Savings*

Winter Season Pass: Adult (18-64)

Full Price*: $739

Member Price*: $449

Member Savings*: $290

Winter Season Pass: Youth (6-17)

Full Price*: $549

Member Price*: $319

Member Savings*: $230

Winter Season Pass: Senior (65+)

Full Price*: $269

Member Price*: $159

Member Savings*: $110

Winter Season Pass: Family
(up to 2 adults and up to 3 dependent children; additional family member $89)

Full Price*: $1,869

Member Price*: $999

Member Savings*: $870