Business No Fee Mastercard®
Great benefits with no annual fee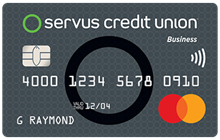 A Servus Business No Fee Mastercard gives your business financial convenience and control.
Card features
No annual fee
Purchase rate: 16.99%
Supplemental card fee of $0
Purchase Assurance and Extended Warranty1
Trip Interruption Insurance1
Baggage Delay Insurance1
Common Carrier Accidental Death and Dismemberment Insurance1
Personal Effects Insurance1
Car Rental Accidental Death and Dismemberment Insurance1
Car Rental Collision Damage Waiver Insurance1
Choose from two payment methods:
Central billing provides one main control account for the business. Payments can be applied to each individual card number. Individual information statements are available upon request.
Individual billing creates an individual account for each employee. Statements are mailed directly to each cardholder.
Ready to apply?
Call 1.877.378.8728 Get a callback
What you'll need for the application process
Process
Depending on your credit needs, we may review your business financial statements and results. Additionally, we'll collect your personal financial information for qualifying purposes and to determine if you're required to personally guarantee the card. We'll require personal information for all directors or individuals who have ownership of the business. Once we've determined your business structure, we may require the documents listed below.
List of supporting documents
Corporate documents:
Declaration of Trade Name filed with Alberta Registries
Articles of Incorporation
These documents provide information about your business, including information about who can sign on behalf of the business.
Notice of Assessments (last 2 years) - personal & business
You may need to provide income confirmation for yourself and your business by bringing in your Notice Of Assessment issued by the federal government after your personal and business taxes have been paid.
Business financial statements
Personal net worth statement
1 Insurance coverage is underwritten by American Bankers Insurance Company of Florida (ABIC) and/or American Bankers Life Assurance Company of Florida (ABLAC). Servus Credit Union is not an insurer. All claims for insurance indemnities must be forwarded to the respective insurers. Details of the coverage, including definitions, benefits, limitations, and exclusions, including a pre-existing condition for certain benefits, are in the Certificate of Insurance provided with the card. Read the Certificate of Insurance then keep it in a safe place with your other valuable documents, and take it with you when you travel.