No Fee Mastercard®
All the convenience, without the fee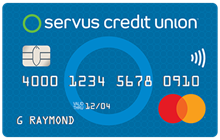 Earn Servus Circle Rewards on all eligible purchases† without paying the annual fee with the No Fee Mastercard.
Card features*
Ready to apply?
You'll need government-issued ID, employment information and/or proof of enrolment for students.
Inquire now Call 1.877.378.8728
®️ Circle Rewards is a trademark of Servus Credit Union Ltd.
1 Insurance coverage is underwritten by American Bankers Insurance Company of Florida (ABIC) and/or American Bankers Life Assurance Company of Florida (ABLAC). Servus Credit Union is not an insurer. All claims for insurance indemnities must be forwarded to the respective insurers. Details of the coverage, including definitions, benefits, limitations, and exclusions, including a pre-existing condition for certain benefits, are in the Certificate of Insurance provided with the card. Read the Certificate of Insurance then keep it in a safe place with your other valuable documents, and take it with you when you travel.
† Eligible purchases include all purchases except: cash advances, balance account transfer (BAT), fees, fraudulent charges or refunded purchases.