(Calgary, Alberta)— Mount Royal University is pleased to recognize a donation of $50,000 from Servus Credit Union towards an endowment that will be used to create a scholarship in the Bachelor of Education-Elementary program for third- or fourth-year students based on academic achievement with a preference to those who have resided in Alberta for a minimum of three years.
"We are thrilled Servus is supporting students in our program," said Jodi Nickel, chair of Mount Royal's Department of Education. "Community is so important to what we do and supportive partnerships like this help us provide an exceptional student experience for future educators."
Servus Credit Union, Alberta's largest credit union, is a member-owned, community-based financial institution with roots dating back to 1938.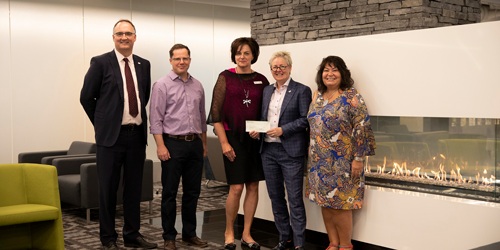 "Servus is pleased to support this scholarship at Mount Royal University," said Vern Albush, Director of Corporate Social Responsibility at Servus, adding that many teachers in the province are also Servus members. "Education is vital to the many communities we serve across Alberta and helping support students who have chosen to become teachers is a way we can give back to those communities."
Mount Royal's Bachelor of Education — Elementary (B.Ed) is unique in Alberta. Students can directly enter into the four-year degree program without needing a degree or prior post-secondary coursework. Once in, students immediately gain extensive experience in elementary school classrooms. Learn more about Mount Royal's Bachelor of Education program.
For further information, please contact:
Peter Glenn
Senior Media Relations Officer
Mount Royal University
Media cell: 403.463.6930
Cell: 403.512.8285
mediarelations@mtroyal.ca
Rosemary Malowany
Manager Public Relations and Social Media
Servus Credit Union
P: 780.638.8838
Rosemary.Malowany@servus.ca
About Mount Royal
Mount Royal University is one of Canada's top destinations for undergraduate studies. It offers small class sizes and personalized student services within a scholarly community renowned for academic excellence and a focus on teaching and learning. Founded in 1910, Mount Royal remains dedicated to the success of its students. Today, nearly 12,000 students choose from 12 bachelor degrees and 32 majors. More than 90,000 Mount Royal alumni are contributing to their communities worldwide.
About Servus Credit Union Ltd.
Servus Credit Union is a member-owned financial institution serving members from more than 100 locations in 59 communities. Servus aspires to build a better world - one member at a time – by shaping member financial fitness to help Albertans feel in control, be financially resilient and pursue opportunities.