(Red Deer, AB) – Red Deer Hospice Society is honoured to announce that Servus Credit Union is supporting the expansion of their facility. The $30,000 grant will help fund the 15,000 square foot expansion that will allow an additional 100 residents to access the facility each year.
"Servus Credit Union has always been a big supporter of Red Deer Hospice," says Evelyn Storm, Executive Director of the Red Deer Hospice Society. "We are pleased that our partnership with this community-minded organization continues to grow, and we feel fortunate to receive their support."
Red Deer Hospice is expanding to better meet the growing and changing needs of Central Alberta. By increasing capacity from 10 to 16 beds, it will allow more families to die with dignity, compassion and care. The expansion will also create additional family lounges and quiet areas, two multipurpose rooms for community programing including respite and educational opportunities as well as staff areas for increased work efficiency and safety.
"We're proud to continue our support of the Red Deer Hospice Society," says Pat Quesnel, Red Deer resident and Senior Vice President of Human Resources and Corporate Services at Servus. "The Hospice has been a valued member of Servus and part of this community since its inception."
Fundraising for the expansion began this summer with work continuing to reach the $5.2 million goal. "We have just celebrated our $1,000,000 mark and expansion donors are being recognized," shared James McPherson, Chair of the Expansion Campaign. "We ask both individuals and corporation to support us as we work to make this important community resource accessible to more families."
For more information on supporting the Red Deer Hospice expansion, visit www.reddeerhospice.com or call Red Deer Hospice directly at 403.309.4344.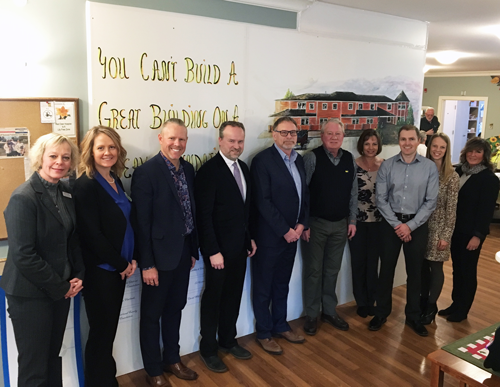 For additional information, contact:
Val Hilario
Expansion Fundraising Campaign Coordinator
Red Deer Hospice Society
403.309.4344 Ext 111
Val.hilario@reddeerhospice.com
Rosemary Malowany
Manager Public Relations and Social Media
Servus Credit Union
T: 780.638.8838
C: 587.920.9158
Email: Rosemary.Malowany@servus.ca
About Red Deer Hospice:
At Red Deer Hospice we are committed to providing compassionate end-of-life care. Our highly specialized, professional staff and trained volunteers are dedicated to caring for the terminally ill and improving quality of life. Since we opened in 2005, more than 1300 residents have journeyed through Red Deer Hospice. In September of 2018, we began expanding our palliative care facility from 10 to 16 beds to ensure we meet the future needs of central Albertans.
About Servus Credit Union Ltd.
Servus Credit Union is a member-owned financial institution serving members from more than 100 locations in 59 communities. Servus aspires to build a better world — one member at a time — by shaping member financial fitness to help Albertans feel in control, be financially resilient and pursue opportunities.