Continuing on its expansion of mobile payment offerings, Servus Credit Union has made Samsung Pay debit available to its members. This means Servus members who use Samsung devices can take advantage of the convenience and security of digital purchasing anywhere Interac Flash® is accepted, across Canada.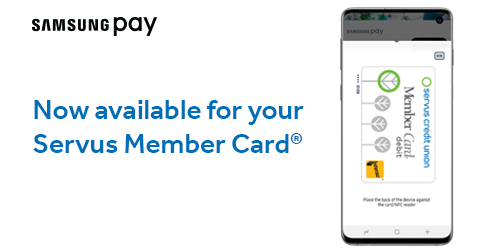 When members add their Servus Member Card to Samsung Pay they're able to make in-store purchases using their mobile devices in a few simple taps. Each purchase is authenticated with a member's PIN or fingerprint, protecting their financial information and making each transaction completely secure.
Digital wallet payments have continued to grow in popularity among Servus members, with Apple Pay becoming Servus's fastest growing service in 2018. The addition of Samsung Pay allows members access to additional payment options and money management solutions. Servus expects to make Samsung Pay credit available to members later this year.
Find out everything you need to know about pairing Samsung Pay with your Servus Member Card on our Samsung Pay page and the FAQs.