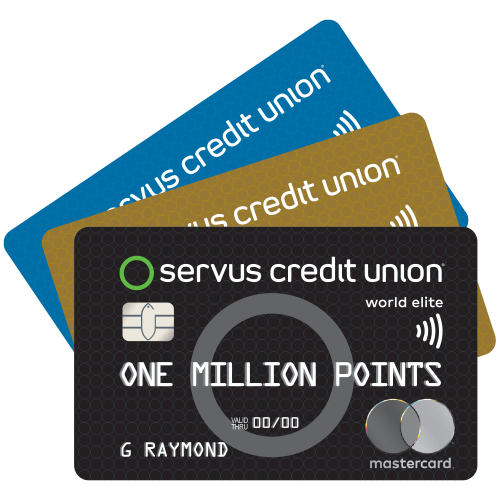 Get a Servus Mastercard® by July 31, 2022, and you'll be entered for a chance to win 1 million* Circle Rewards® points (a $10,000 value) plus:
Save up to $150 on your first-year annual fee**
Earn double points on grocery‡ store purchases for 90 days after account open date
Transfer your high-interest debt and receive a 3.99% promotional interest rate for 10 months, subject to a 1% transfer fee***
Ready to get your Servus Mastercard?
Start here Call 1.877.378.8728
Read the official contest rules, eligibility and other important conditions for more information.
Mastercard, World Elite and the circles design are registered trademarks of Mastercard International Incorporated.
*No purchase necessary. There is a total of one (1) prize of one million (1,000,000) Circle Rewards Points - a value of $10,000 - available to be won. Odds of winning depend on number of approved applications received. Contest rules and regulations apply. See the Official Contest Rules at servus.ca/millionpoints for eligibility, alternate means of entry and other important conditions.
**To receive the first year annual fee waiver, your application must be received and approved by July 31, 2022. The annual fee waiver will automatically be applied.
‡Earn double Circle Rewards points on grocery store purchases for 90 days from account open date. Grocery store purchases must be made at merchants classified by Mastercard's "Merchant Category Code" as "grocery stores and supermarkets" (MCC 5411).
*** Within 30 days of receiving your card you can request a balance transfer on your non-Servus Credit Union credit card or a transfer of funds from your Servus Mastercard Account (your "Account") to your Servus chequing or savings account in an amount (including the transfer fee) that does not exceed your current credit limit (taking your outstanding balance into account). Any transfer made under this offer will be treated as a balance transfer/cash advance under your Servus Mastercard Account Agreement and, except as otherwise provided for in this offer, will be subject to the terms and conditions of that Agreement. The balance/funds transfer amount and the transfer fee will be charged to your Account at a promotional interest rate of 3.99%. Interest will be charged from the date that the transfer is posted to your Account until you repay the total amount that you owe. All balance transfers/funds transfer are subject to a fee in an amount equal to the greater of (i) 1% of the amount of the balance/funds transfer and (ii) $7.50. Please allow 3-5 business days from the time that you verbally accept and consent to this offer for any balance/funds transfer request to be processed. You will be entitled to benefit of the promotional interest rate for the first 11 consecutive billing cycles following the initial posting date of the transfer to your Account. You will lose the benefit of this promotional interest rate and any remaining balances that had the benefit of the promotional interest rate if you miss making your minimum payment due under your Account by the due date. In that circumstance, the balances that were subject to the promotional interest rate will be charged at the rate set out in your Agreement for cash advances and balance transfers starting on the first day of the statement period after your missed payment. For a World Elite, Gold and no Fee Mastercard the current cash advance and balance transfer cash advance interest rate is 24.99%.