Are you missing a rewards credit card in your wallet? Or if you have one, do you have a love/hate relationship with it?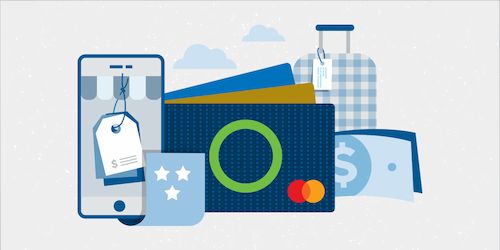 Having the right rewards credit card can be, well, really rewarding, but it's about finding the proverbial needle in a very large haystack of choices.
There are a variety of reasons you may be on the fence about your current rewards card, or why you've held back on committing to one altogether. Let's explore some common things to "love" or "leave" about rewards credit cards so you can see how a Servus rewards Mastercard might be the most rewarding option for you.
Love: redeeming for the things you want, when you want
Leave: restrictive expiration or blackout dates
One of the most common grievances against credit card reward programs is that some of them have redemption limitations or even points that expire after a certain length of time. Often you don't realize these restrictions until long after you've opened the card account and built up a reward balance you're now trying to redeem.
With Servus Circle Rewards®, the rewards program tied to Servus Mastercard credit cards, the points you earn never expire and you enjoy unlimited earning potential. Best of all, Circle Rewards points are no one trick ponies – you can redeem them for a variety of rewards such as travel, cash back on your account balance, merchandise and even as cash investments towards your financial goals (a feature unique to this program!).
Restrictions be gone!
Love: a premium card with premium perks
Leave: when the annual fee is higher than the value of those perks
The thing about premium credit cards with premium rewards is they tend to come along with premium annual fees. This might be just fine if the value you estimate recouping via rewards redemption is higher than said annual fee. If it isn't though, then the math simply doesn't add up.
Luckily, this isn't the case with a Servus World Elite® or Servus Gold Mastercard because we pay 25% of your annual fee back to you each year in Profit Share® Rewards cash (just part of the rewards you earn for being a Servus member!). For example, take the Servus World Elite Mastercard with an annual fee of $150.00 – you'd earn $37.50 in Profit Share Rewards cash back so the value in rewards you'd need to redeem to breakeven would be only $112.50.
Now that math adds up!
Love: a card that suits your lifestyle
Leave: having to choose between the right card or the right rewards
We all understand that the best rewards programs are generally reserved for the premium cards. Unfortunately, this sometimes forces a choice between what's the best credit card for your lifestyle and which one will get you the rewards you desire. Wouldn't it be great if you didn't have to settle?
With Servus's suite of credit cards, you can choose the one that's best for you, whether that's one without an annual fee, one with travel coverage, etc. because there are several card types eligible for Servus Circle Rewards. Get the card that fits you without sacrificing the rewards you want!
A true win-win!
If you're looking to have it all – great rewards and a card perfectly suited to you – check out our card selection tool to find which one best suits your needs and let's get it added to your wallet.
Get a Servus Mastercard