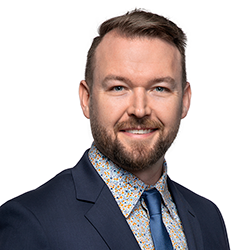 Meet Kelso Brennan. Kelso joined Servus's Board of Directors in 2022. He brings his knowledge of the Credit Union system, business administration and strategic planning to the Servus board.
Kelso is a small business leader, and currently holds the position of General Manager of a group of Architectural Signage and Wayfinding companies in Alberta. He is also an avid real estate investor with a mix of commercial and residential properties, with a passion for recreational lakefront short-term rentals.
Kelso holds a master's degree in business administration from the University of Alberta, and a Project Management Professional designation. He first started his career as a software developer for the Alberta Justice Department, and shortly afterwards founded several start-up companies which were acquired in 2017.
Kelso was born and raised in a small rural town in Alberta and moved to Edmonton in 2017. He loves to spend time at the lake with his wife Ashley and their three children, Jack, Chloe and Marlow.