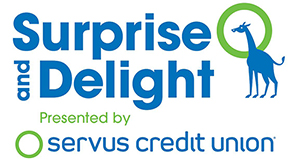 Servus is presenting sponsor of the Surprise and Delight program at the Wilder Institute/Calgary Zoo and Santa's Workshop during ZOOLIGHTS.
The Surprise and Delight program runs year-round and will include spontaneous experiences for visitors such as a complimentary Servus promo gift bag or impromptu animal experiences. During the holiday season, the Calgary Zoo offers a one-of-a-kind event — ZOOLIGHTS! Servus proudly sponsors Santa's Workshop where families have a chance to meet, visit and take photos with Santa himself.
The Calgary Zoo is one of the best zoos in North America. From the splendor of the Rocky Mountains to the heart of Destination Africa, you can see almost 1,000 animals from around the world. Plus, every visit helps protect endangered animals.