The ASA and Servus make a great team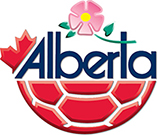 Servus is the Title Sponsor of the Alberta soccer provincials, which draws over 600 teams and 10,000 players across Alberta each year to vie for the highest achievement of their season. The Alberta Soccer Association (ASA) is the largest individual sports association in Alberta with 90,000 registered members. We first partnered with the ASA in 2014. As title sponsor of the provincials, we were excited to show our support as a community partner and encourage healthy competition at all levels—and we're excited to do it again and in the future!
Alberta hosts the most provincial soccer championships of any province in Canada with three different types of soccer (indoor, outdoor, and futsal) at four different skill levels.
The Alberta Soccer Servus Credit Union Provincial Championships are held every year in March and between July and August seeing over 12,000 athletes and staff spread out between 585 teams playing in over 1000 matches and watched by over 20,000 spectators.
For more information on the Alberta Soccer Association or to find out about tournaments in your area, please visit albertasoccer.com.