Peace of mind starts with estate planning – ensuring your assets are dealt with the way you intended so that your loved ones are provided for after your death. Many people choose the route of appointing a corporate executor, who is a professional trained in administering an estate, rather than leaving that task to a family member.
"Having a corporate executor becomes an especially important option for those who have no family, or who have no one in the family willing and capable to act as executor, or if family dynamics are at play," says Murray Paszko, Manager Estate and Trust Services, Servus Credit Union.
"Some people can't get along," he says. "Or perhaps there isn't a family member close by who is confident enough to look after your assets. Without a properly trained, third-party executor, the administration of the estate can get bogged down, with people hiring lawyers to challenge everything the lay executor is doing – while that person is also dealing with their grief. Then the process not only becomes more time consuming, but also more expensive."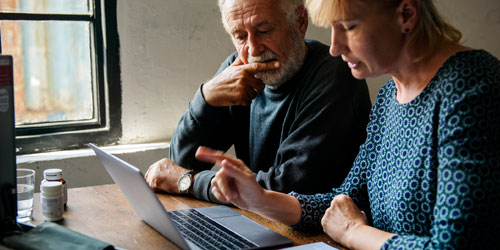 Servus members use Concentra Trust, a trust company comprised of professional executors (as opposed to hiring a professional executor such as an accountant or lawyer). These officers have training and experience that allows Servus members to get the quality advice and help they are looking for.
"There is a lot of work there, plus the liabilities, for the corporate executor," says Murray.
When you die, the corporate executor handles everything:
locating the will and contacting beneficiaries
gathering and creating an inventory of assets
safeguarding those assets. For example, if there is a house involved, and there is no one living in that property, the corporate executor would add vacancy insurance. Or, the corporate executor would ensure any money is invested in something like a term deposit, generating interest, while the estate was being administered.
determining and settling all debt and liabilities of the estate.
arranging for probate
completing all tax returns for the estate
distributing assets to the beneficiaries
administering any trusts from the will
If you want a family member or close friend as executor, there are services to help guide the lay executor, such as the Servus program, Executor EASE.
"Our members can come into our branches with their designated executor to arrange for estate planning, and when they do pass on, that family member or friend can also come into our branch for assistance," Murray says. "For our members, we take it from cradle to grave, beyond the grave actually. We'll look after their family's financial needs, including their own estate plans."
Estate planning is a part of the value provided to members who work with a Servus advisor. It will cover issues like family dynamics, assets and liabilities, insurance, tax liabilities, and final expense estimates for things like funeral, cost of probate, lawyer fees and tax preparations.
An Estate & Trust specialist works with the Servus advisor to complete this important component of the member's financial plan. We encourage you to speak to a financial advisor at your local branch for more information about how to access those financial planning resources.
Estate planning may seem complicated at the outset, but when you get into the process, it is more straightforward than you think. There are people out there to assist you, and you'll feel more empowered knowing your wealth and assets will be allocated the way you intended.